I Am Going to PubCon and Want to Bring Your SEO Questions with Me and Get Answers for You
Today it the last day I will be working from my home office for a week.   On Monday I depart on a jet plane to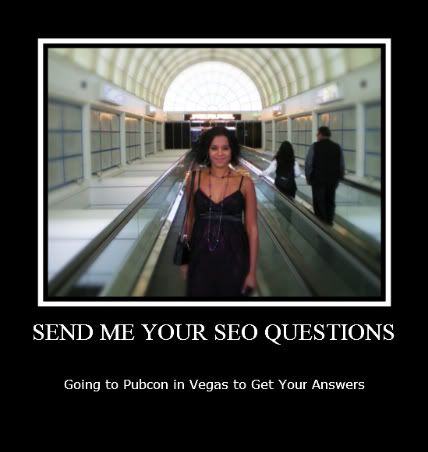 Las Vegas where I will be attending PubCon, a conference whose focus is educating participants on Social Media, Affiliate Programs, Search, and SEO/SEM.
Along my journey I will be meeting up with the lovely ladies of Classified Flyer Ads, Misty Lackie and Candice Hidalgo. Classified Flyer Ads is a company I have worked with in the past and a company that I would personally recommend to any real estate professional. My list of recommended real estate vendors is not easy to make and I am happy to include Classified Flyer Ads.
If any of my readers or associates will be attending PubCon I would love to have the opportunity to have some meet and greet time.  Just email me and let me know.
If you aren't going to Vegas I would like to present an offer to you.  Send me your questions by commenting on this blog post and I will pack them up and take them with me to PubCon and find the answers for you.  I will try to get as many answers as possible.  All I need are your questions in the comments below.
If you want to spread the word about this open invitation to hunt down and retrieve SEO information, just reblog my post and let your readers know.
What kind of SEO/SEM Topics You Might Have Burning Questions About
To give you an idea of some topics, here are just a few of the sessions I will be taking,
Top-Shelf SEO: Hot Topics and Trends
Local Search and Mobile Optimization
Competitive Intelligence: Know Thy Competitor Well
I would actually like to share my tentative almost 99.9% for sure PubCon Itinerary with you,
Your PubCon Conference Itinerary(2)
Other topics include PPC advertising, affiliate marketing, twitter, landing page optimization, viral marketing and of course SEO/SEM tactics and strategies
I always have a thirst for knowledge and a willingness to share. 
I am going to Pubcon and Want to Bring Your SEO Questions with Me and Get Answers for You.  It's a daunting task but I am up to the challenge.  Spread the word via reblog and send me your questions in the comments below.
Subscribe to Blogging In The Rain, A Real Estate Marketing Blog
If you enjoyed this post then check out these blog posts written after the BlogWorld Convention 2008,
******************************************************************************************
Rebecca D. Levinson is a real estate marketing consultant with 17 years of experience serving real estate professionals.  Real estate marketing services include
Blogging- See my Blogging Tune-Up Website for Details
Social Networking
Niche Marketing
Marketing Strategy
Branding- See my Branding Sanity Website for Details
Offline Marketing
Online Marketing
Special Events Promotion and Marketing
Holiday Marketing
Marketing Campaigns
Email Marketing (Content and Design)
Reputation Management
If you treat real estate as a business then Real Skillz is a desirable real estate marketing solution. Call #262-203-5231 or email rebecca@realestateskillz.com.