I just wanted to share a before and after of a client's home to show how much just two changes - a fresh coat of paint and a new door - can make. Although this client is fixing up their home to live in - not sell - the point is still the same. They took a house which looked outdated and a little tired and made an enormous improvement just changing those two things.
They really had their heart set on gray, but wanted me to help them choose the right one. I thought you would enjoy seeing how helpful some of the free online color choosing software is. This happens to be Personal Color Viewer from Benjamin Moore, but there are many of them out there by different paint companies. Here is the before photo of the house with three of the many shades of gray they were considering. We opted for a pale shade and selected one that was very warm in tone. You can also see that they tried out the door being painted the same cream color as the trim or being painted in a darker iron gray.
So here are the final Before and after photos of the house and also the close ups of the front door.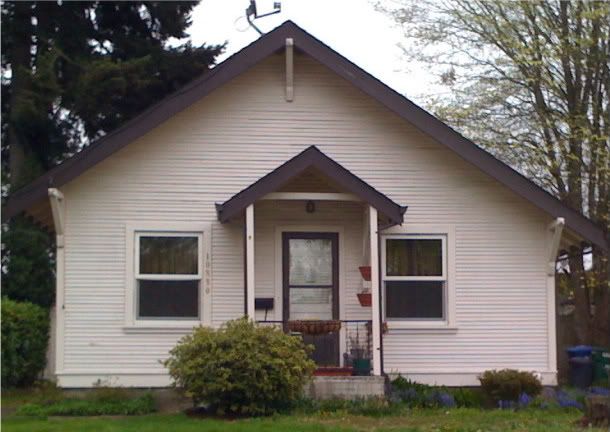 The front door makes a huge difference giving the house an immediate lift to an upscale and more substantial feel. I hope you enjoyed seeing the difference that just two changes made!
Pangaea is a Portland, Oregon based Interior Designer and Professional Home Stager. If you would like help determining what changes you can make for the biggest impact, give here a call at 503.816.4394, or visit her website at Pangaea Interior Design.
If you enjoyed this idea for improving the look of your home, sign up for my FREE MONTHLY DESIGN IDEAS.