By now if you use Twitter you may have seen the new Beta feature called Retweet. This new feature works much like the normal reply but has a few key differences. When you reply to a Tweet, the Tweet has your Avatar, information and gives you a chance to add a commentary. A Retweet retains the originator's Avatar and information. You do not get to add a comment, you can just post the Tweet. However you do get the credit on the bottom of the Tweet that this Tweet was Retweeted by you. The post also contains how many other people Retweeted it. This may add some credibility to the post if lots of people Retweet it.
So what is the purpose of a Retweet? Well for one thing it is very quick and convenient to hit the Retweet button and we live in a society of convenience. On the flip side if you got yourself Retweeted then you have you Avatar and information on the Tweet, so you get the recognition.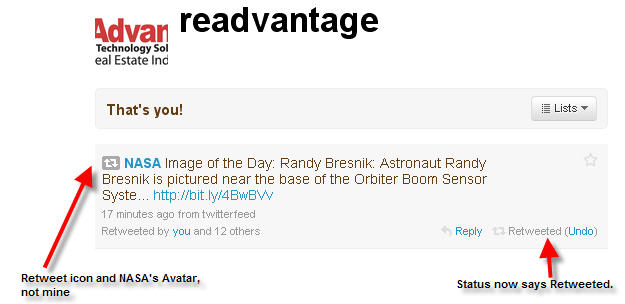 Twitter's CEO Evan Williams posted an interesting article on his blog on November 10th where we broke a Retweet down. He admitted it might be controversial but to me I am not sure of all the panic. Some people say it might be a bit suprising to find someone's Avatar on there timeline and perhaps people feel that this person is not vetted because they may not be following them. I find both of these points a bit extreme. Most people, including myself have no exact idea of all the people following me or I follow. And the second part about being a bit surprised by someone else's Avatar.
Well, come on, this is Social Networking. This is how the whole thing really works. Interaction and proliferation of information. You do have the choice of ignoring it. But look at it this way, if the Retweeter thought it important enough to Retweet to his followers chances are the Tweet might interest you too. The only thing I wish the Retweet had, was a chance to add a comment. Sometimes that would be helpful but in the Twitter tradition, I guess less is more.
For an Agent Retweeting can lend credibility to your sphere to influence by allowing you to Retweet items that enhance your authority. Let's say for example you Tweet about your marketing area. By adding Retweets around your community you can boost your visibility on your authority in that area, thus re-enforcing to people that want to follow you that you are an authority in that area or topic. And since Retweeting is so easy, a click of the mouse, it becomes simple to add tweets you come across.
Retweeting is still in limited beta so regardless of what you feel about the feature I am sure it will change before the regular release. If you are still unhappy after the release you can just use the Reply button and you can just ignore Retweets as they post to your timeline.