There's lots of talk these days about 'Carbon Footprints'... What about Blogging Footprints?
We wouldn't be writing if we didn't expect our blogs to have an impact - but what kind? Sometimes they're informative or helpful, sometimes they provide love and light and then again sometimes not. We can have a myriad of effects on those people that read our Blogs.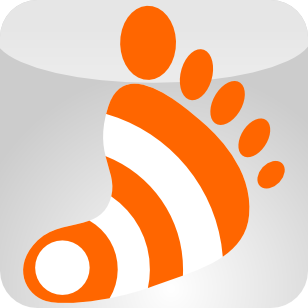 Our Blogs carry with them their own energy. They can be fresh, creative and inspiring...or negative, critical and stagnant. They can bring laughter and tears and their own special 'Aha' moments.
What kind of space does your Blog create? Is it harmonious and nourishing and does it create positive feelings? What is your Intent?
Blogs can be like a sponge, it's interesting how they can absorb the comments of all who pass through it. Posts are spaces people move through each day have seen many people come and go. Does your post or comment footprint you leave behind invigorate or drain?
We have control of the energy footprint we leave behind. We each have a subtle energy that can shift and affect not only our own experiences in that space but also the experiences of the individuals who will enter the space after us. While we may never see the effects our post has, you can be sure it has one!
What's your Social Media Footprint?
Our blogging footprint probably isn't all that different. The wedges just have different names :-)
If you or someone you know is thinking of Buying or Selling property in Cultus Lake, Chilliwack, Hope, Abbotsford, Langley or anywhere in the Fraser Valley Area of B.C. - or if you would like more information please give Liz Moras of Landmark Realty Chilliwack a call at- 604-799-0459 or e-mail at lizmoras@gmail.com.
k. Ltd.