Anyone who knows me or reads my blog knows that I am an advocate of local shopping; in particular when it comes to Real Estate. I never could understand the logic of a local resident going to an agent 50 miles away (or further) and having them list their home for sale...just because they may know them or be related. The key has always been that local area experts do a better job of marketing a home for sale and end up with a higher price.
Well my advocacy extends beyond Real Estate and into the local community retailers, as well. Here in the Hemet - San Jacinto Valley, CA we have not one but two Super-WalMarts, that I have blogged about and questioned their 'job creation' and how most things there today, appear to be made in China.
SO WHAT IS THE 3/50 PROJECT?
I found a site on the web promoting "the 3/50 project®" that was started in March of this year by a former retailer, Cinda Baxter. A number of events unfolded the first week of that month, that would have a profound affect on Cinda that led to the creation of "The 3/50 Project®"...and apparently a profound affect on retail businesses across the country. Here are the events that sowed the seeds:
Monday: Oprah does a show instructing consumers to stop spending money on anything that was non-necessity
Tuesday: CBS News reports that "Consumer spending drives 70% of the economy. When consumers put their wallets away, the economy has trouble making a U-turn."
Friday: In a guest spot on the Today Show, Erin Burnettfrom CNBC talks about how psychology plays into the economy and the importance of innovation in times of difficulty
Sunday: Erin's back, this time on Meet the Press, chiding the national media for taking negative hyperbole into the stratosphere

Mix those together with a deep seeded desire to create a message that's positive and achievable, and, well...you get a blog post written on March 11, 2009, giving birth to The 3/50 Project.
LETS TALK LOCAL RETAILERS AND WHAT WE ALL CAN DO
The entire concept of the 3/50 project is to spend your money locally and not in the big box stores or even worse online. Take a look around your community and imagine how you would feel if your three favorite retailers had to pack it up after Christmas...or anytime, because you and your neighbors took the quick and easy route of shopping in either a box store or the Internet. The entire goal of the project is to promote shopping in locally owned businesses while thanking customers for the positive impact that decision has on a local economy. The tag line of the 3/50 project, "Save your local economy three stores at a time," pretty much says it all.
In researching the depths of the website, I found a press release where Baxter says, "We're constantly inundated with doom and gloom. The system is broken, the banks are frozen, the economy is bleeding. That's all we hear. The images painted by the media are ghastly and devoid of hope. What we need—what we crave—as a nation is to pinpoint areas where positive change can occur, then feel good about having promoted them."
By early March, she'd decided enough was enough, and that it was time to give retailers ammunition to fight back with. Rather than get tangled in complex messaging and deployment, Baxter combined a straightforward theme, a free flyer, and her blog as the mechanism to launch The 3/50 Project.
"We ask consumers to think about which three stores they'd miss if they disappeared, then remind them to return there," explains Baxter. "Shoppers have become so rooted in thinking about the essentials that they've forgotten about the little gift store on the corner whose owner remembers their name."
"Fifty comes from the idea that if even half the employed population spent a mere $50 per month in locally owned retail stores, those purchases would generate more than $42.6 billion in revenue," she continues. "That's a huge impact for a relatively small investment." Which leads to a third number on the flyer, sixty-eight—the dollar amount that remains in a community's economy for every $100 spent in locally owned stores. By contrast, only $43 per one hundred remains local when spent in national chains; little or no revenue results from online purchases.
"In essence, the whole thing boils down to. Pick 3, spend $50, save the economy.' It's really that simple."
Given the level of interest, a dedicated website has been established to promote the movement, link to the free flyer, and list participating retailers and other supporters. It can be found at http://the350project.net.
I would like to add that being a "Supporter" is Free. The only levels of membership have to do with the category of business you have; i.e. independent retail business, franchise, local support organization, etc. It's all free - it is here for us to promote the concept - Spend $50 a month between 3 local businesses each and every month. If we all do this, then yes, we can make a difference...a POSITIVE DIFFERENCE!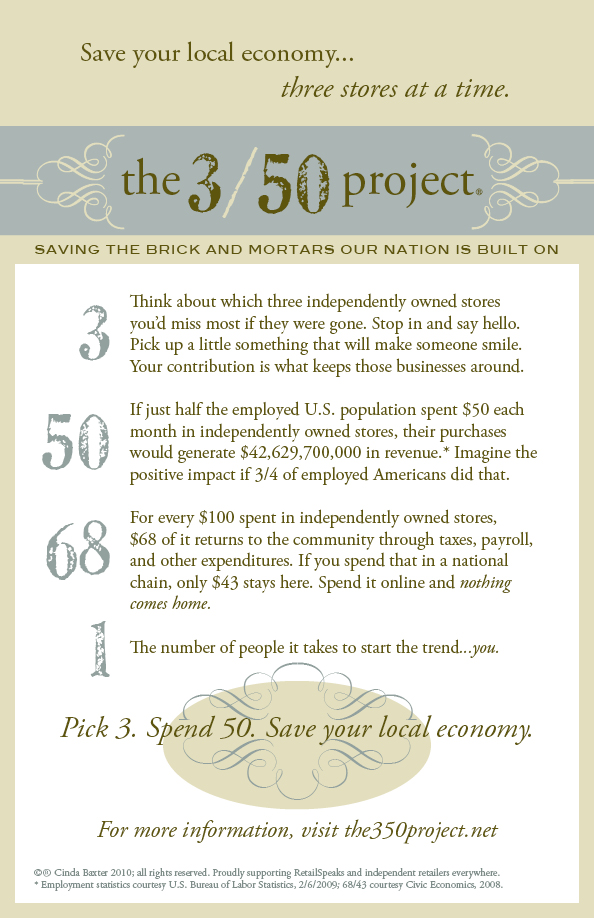 -