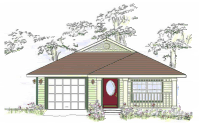 TAMPA, Fla. ---
The CDC of Tampa, Inc.,
will host an open house Sat., July 14 from 10:00 a.m. to 1:00 p.m. at 2907 N. 24th St. in Tampa. The reason?
"To celebrate the availability of our newly designed homes," said Ernest Coney, Jr., Chief Operations Officer at CDC of Tampa, Inc.
Mr. Coney is well known in Tampa for his reserve. What CDC of Tampa is doing comes close to miraculous: a three-bedroom, two-bath single-family home a family of four can afford to buy with a household income of $41,600.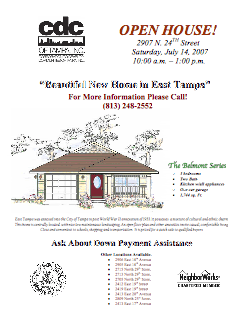 That's a couple who each earn $10 an hour. Okay, that is a miracle. Coney, a participant in the Universty of South Florida Collaborative for Children, Families and Communities' summer certificate course on Community Real Estate Development (CRED), will probably object to that appellation. The son of pastor Ernest Coney Sr. and Chloe Coney, the U.S.F. Distinguished Citizen Award-winner who steered CDC of Tampa for a quarter-century, generally reserves the 'm'-word for higher phenomena.
Note: Click on the image at right to download a .pdf flyer with all the details).
Coney's organization of community activists are steadily transforming East Tampa into a highly desirable community. You can't call this gentrification---Coney and company aren't kicking out the poorest families. Instead, they are creating opportunities that give low-income families a solid stake in the future of their neighborhood. That's pretty powerful.
Altogether, CDC of Tampa---a NeighborWorks Charter Member---has 10 home sites in East Tampa. They should have 100.
The rendering above shows CDC of Tampa's Belmont Series single-family home, with a whopping 1,744 square feet of living space, three bedrooms, two baths, an open floor plan and full kitchen with all appliances, even a one-car garage. And it's all within easy distance of local bus routes, neighborhood schools and shopping.
Florida's 67 counties are required to inventory publicly-owned properties to see how many home sites siezed for non-payment of taxes, etc., might be available for workforce housing. CDC of Tampa is showing off a model that other Florida counties might well adapt to their own needs.
We'll report more on this story as it develops---editor Steve Webster has promised that Coney will serve as a future 12 QUESTIONS subject.
Coney's got some 'splainin' to do---and we can't wait to hear it.