Our Knoxville Zoo has grown from its humble beginnings in 1948 with a lone Alligator named "Al" to a world class facility with over 850 animals; talk about your Lions, Tigers, and Bears, Oh My!
The Knoxville Zoo has a world class breeding facility for Red Pandas which look more like a red racoon than the 'teddy bear' like Pandas that are native to China.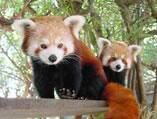 Red Pandas at the Knoxville Zoo
Ever on the cutting edge, our Zoo even has a blogging Parrot named Einstein. Einstein is a 20 year old, African Grey Parrot who has been a Zoo resident since age 5.
See Einstein in action.
The Zoo has just embarked on a 12 million dollar fund raising campaign to build or improve several exhibits and make it even better.
Black bears are native to East Tennessee and abound in the nearby Great Smoky Mountains National Park
4.5 million dollars of the 12 million is earmarked for a state of the art, Amphibian and Reptile Conservation Center targeted to open in 2011.
The whole project will allow the Zoo to add an additional 200 animals in additional to renovating several aging exhibits such as the big cats and wild dogs areas.
Open 364 days a year (closed only on Christmas Day) our Knoxville Zoo is a fascinating and state of the art facility to be proud of. Take the kids (or not)
for a day of fun at the Zoo.