I wrote this article for my newsletter last week. I got to thinking that almost all of the Home Stagers I know work out of home offices. Real Estate Brokers usually have home offices as well. So, I thought I would go ahead and share this. I hope you enjoy the article and can create the perfect home office for you.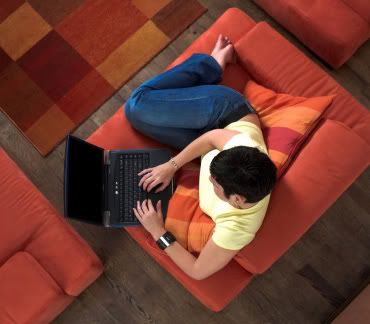 It all started last year when I finally bought a laptop computer with my Christmas money. I was so excited because I could finally do some work while I sat in the shade on our deck overlooking the river. But I still thought I would need to use my older desk top computer in my office. Boy, was I wrong! After a whole year, I have never again sat in my office to use the desktop computer. My laptop has everything I need.

The second thing that happened — my new business coach talked to me about creating a work space that was comfortable and free of distractions. I realized my office wasn't comfortable because I hate sitting in an office style chair. I'm much more comfortable sitting in a lounge chair with my laptop — um, well — on top of my lap.

Then the third thing — one of my technologically savvy clients turned me on to various wireless technology that makes it so I no longer have to deal with a hideous mass of cords hanging under my desk.
Photo: istockphoto

So, I'm completely re-thinking my home office and turning it into a haven — yes, that's right, a haven — where I can retreat to focus on work. I'm re-examining everything in there to make it function just right for me. If you are ready to re-vamp your home office, or setting one up for the first time, the following questions and tips will help you design an office that works for YOU!

Equipment:

Do you still use a land-line telephone?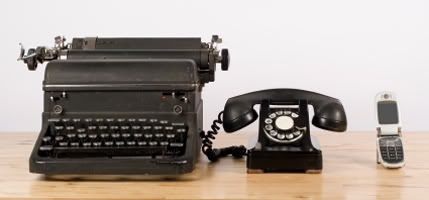 photo: istockphoto
I disconnected mine when I realized that I only used my fax machine 3 times last year and I make and receive all of my calls on my cell phone. I'm saving $40 per month by getting rid of the land line. That got rid of an ugly phone and answering machine on my desk and eliminated 2 phone cords and an electrical cord – Yay!

Do you still use a desk top computer? Some people need them for the large screens. Mine was 6 years old, and my 1 year old laptop actually has 8 times as much memory capacity. So, for me, the laptop is all I need and that eliminates a whole bunch of stuff from the top of my desk.

Wireless docking stations and wireless printing: My techno-savvy client told me about these advances in modern technology. Why would an interior designer be so excited about this? Well, it means that you are no longer forced to put your desk on the wall right next to the cable or phone outlet. You don't even have to put your desk or docking station in the same room as the cable outlet! It totally eliminates so many cords hanging under your desk, so you can sit your desk in the middle of the room if you feel like it and only need to be concerned with an electrical cord or two. This is amazing design freedom!

Layout:

Now that you have all this freedom to put your furniture where you want it, you can arrange things any way you like. Here are some tips on layout.

If clients come to your home office, the best impression is made by having your desk face the entrance to your office. Having your back to the door is also bad feng shui.

If you are the only one who goes into your office, then consider placing your desk to take advantage of a nice view. No view? Then treat yourself to some nice art so you have something beautiful to rest your eyes on when you're thinking.

An L-shaped desk is generally more efficient and comfortable to use (as opposed to a desk in front of you and a credenza behind you) when you have many items you need to reach for over and over. Place the things you need frequently closest to you, and the rest further away.

Furnishings & Aesthetics: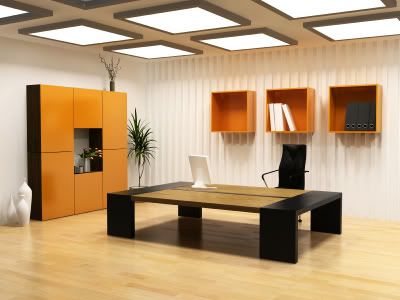 photo: istockphoto

Your chair is the single most important piece of furniture in your office. If you will spend hours sitting in it, it's worth it to invest in a very comfortable one. If you sit at a desk to work, having a foot rest i
s great for taking stress off your lower back. I personally don't spend much time at my desk. Instead, I have a work table for when I need to do a design board. So, in my office, I brought in a deliciously comfortable lounge chair, an ottoman and a side table to hold my drink. You might like to have a sofa or loveseat if you have the space. If all your work is done via laptop — maybe you don't even need a desk!

Closed storage will hide less attractive items behind doors and keep your office feeling serene and uncluttered. Open storage is best used for items you want on display and for items you have to reach for repeatedly throughout the day. Lateral file cases are generally easier to place in a small room than traditional file drawers.

Beautiful furniture will make you feel pampered and lend an air of graciousness to your work space better than pieces that look like they belong in a commercial office.

Location & Separation:

If you have a separate room for your home office, you are fortunate because you can close the door on distractions in your home and you can also close the door when you're done for the day. If you must locate your work space in the main living rooms of your home, then look for ways to give yourself some separation.

A closet turned into a workspace can be closed up when you finish work. An armoire with fold out desk can do the same thing.

Sliding doors, curtains, or free-standing screens can all be employed to provide separation as needed — either to keep distractions out or to hide the workspace when the work day is done.

This is a big subject. I haven't even addressed lighting or paint colors yet. So, keep an eye out for the e-book I'm writing on the subject. I hope to have it launched next month.

With careful thought about your personal needs, technology that gives you freedom, and the space available for your home office, you can create a place to work that will help you achieve your goals for 2010.
Pangaea Interior Design specializes in residential interior design and home staging in Portland, Oregon. For help designing the perfect room for you, don't wait -- call today! 503.816.4394