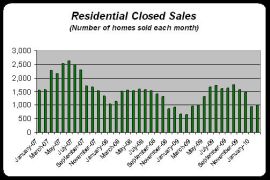 Looks like the New Year is starting off well.  The real estate markets are strengthening, the stock market is holding its own, and the U.S. dollar is doing well on world markets.  Our economic recovery seems to be getting some legs, although slowly, and the government continues to focus a lot of attention on the real estate market as one of the main engines to help drive the economy and restore jobs.
Real Estate Market Overview
Our Greater Seattle real estate market is continuing to look solid on a price basis, and show the usual seasonal inventory patterns through the beginning months of the year. The level of Closed Sales, i.e. purchase transactions completed, continues to be seasonally strong. Closed sales levels for single family homes continue to run more at 2-years-ago levels, and seem to have shaken off the effects of the winter 2008/09 financial crash. As noted last month, some of that buying clearly has been stimulated by the federal First-Time Homebuyer Tax Credit, which had been scheduled to expire December 1.   With the First-Time Homebuyer Tax Credit extended to this Spring (accepted offer with signed contract by April 30th), and the new Existing Homebuyer Tax Credit for the same period, it looks like that extra incentive is continuing to boost our 'normal' winter/holiday seasonal cycle. Here's a link to more information on that Existing Homebuyer Tax Credit which I fondly call The Move-Up, Downsize, Move-Around Tax Credit.
Current Market Statistics
The links below provide a graphical summary of Real Estate Market Statistics for the Greater Seattle/Bellevue/King County area over the most recent 3+ years, for single-family homes and for condominiums. The volume of residential sales has seasonally bottomed as usual in January, although at a much higher rate than January of last year for both residential and condominium sales. Median prices seem to be holding steady, and the number of homes available is staying well below 2007 and 2008 levels. Months-Supply has bounced up sharply, for both residential and condominium, as it always does in January. The holidays seem to be a time of decision making on changing homes and moving. So a lot of Sellers come on right after the holidays. And a lot of Buyers start coming out then too, but they have to look around and then make an offer and then wait till it closes. So the Sales stats lag the Listing stats. The Sales stats start catching up in March and April. 
Here's the charts for the current stats through January: (Required disclaimer: Statistics not compiled, reviewed or verified by the Northwest Multiple Listing Service)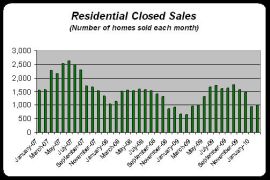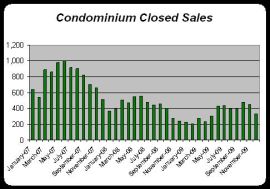 The large Pending-Sale backlog is continuing to run pretty high, but coming down, perhaps indicating that fewer transactions are getting hung up in escrow on financing and short-sale issues. I'll post some notes on the blog about Short Sales, Loan Modifications and Foreclosures on our blog within the next week, along with all of our other newsletter articles.
So if you want to go back a check a previous one again, just click
here
.  Or to follow all our articles, please go to our
Greater Seattle Homes Today blog
, and click the little gold
fan-flag
at the top. If you are not already a Facebook member, just doing a skeleton sign-up will give you direct access.
Article originally published in Greater Seattle Homes Blog.