I've made tens of thousands of dollars from people just like you. Yep that's right, I make my living by taking from you every chance I get. Best part is you make it so easy for me! I have so many ways to do this that it's hard for you to keep up with all of my methods. I'll exploit you, your buyers and make a ton of money!
This is likely the thought process from a criminal of a quickly growing crime called identity theft. What does this have to do with a real estate agent?
A prospect finds your blog and learns about the nuances of buying a home because you blog about it. Eventually they call you and after a nice conversation you agree to meet. When you meet the inevitable question arises: Are you prequalified? Usually the answer is no but I pay my bills on time and have a down payment. With a smile on your face you think to yourself, alright! Looks like I have a qualified buyer! What a great day!
Later that day the trusted loan officer you recommended to your prospect calls to tell you that this person won't qualify because someone stole their identity and ruined their credit. Ughh! Nothing could have prepared you or them for that.
Wrong.
What you write on your blog is likely read by hundreds or thousands of people in your community. You provide them information about local events, real estate market, quality of life but do you offer tips to secure their ability to get a loan?
It's very important know more than ever before to pay close attention to any charges or fees on any and all accounts we may have and to keep all personal information just that, never give out any information to anyone over the phone including people who seem to have a lot of personal information or account numbers of yours.
I don't want to pay a monthly fee for credit monitoring or id theft protection and I doubt you and your prospect does either. So here are both free and low cost solutions that you can blog about:
Regular credit review: You can pull 3 credit reports a year at no cost.
Where: www.annualcreditreport.com When: Instead of pulling all three at once pull one report from each credit bureau every four months. If you choose to use a different source for a free credit report they will likely sell your information for a profit thus increasing your junk mail which now exposes your personal information even more.
Set up a fraud alert with the credit bureau. You may have to do this on a regular basis.
Guaranteed protection without having to monitor anything. Cost: A one time fee of about $30 ($10 to each credit bureau)
Credit Freeze. Where: Experian Transunion Equifax
For about a $10 fee each credit bureau will "freeze" your credit and issue you a PIN number. If you have already been a victim of ID theft it is free. Nobody can access your credit even if they have your social security number, birthdate etc. They must have the PIN number. In order to access your credit you must pay a $10 fee to "thaw" your credit and provide your PIN number. You'll have to pay another $10 to re freeze your credit again. This is better than a $30 monthly fee paid year after year. Another downside is that if you apply for credit you will have to remember to "thaw" your credit first. In case you wondering if I practice what I preach, my wife and I both have security freeze with all credit bureaus.
Of course I won't personally exploit you or your buyers. If I had titled it "How to prevent ID theft" would you have read it? I didn't think so!
I think I will be purchasing a locking mailbox................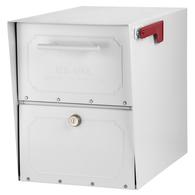 See more details about this product
Architectural Mailboxes Oasis Jr. Locking Mailbox Post Mount White
$129.58 The one above is from Lowes
and this one below from Home Depot
Model N1028131
$89.95 Plus shipping ,
if you spend $249.99 shipping is free