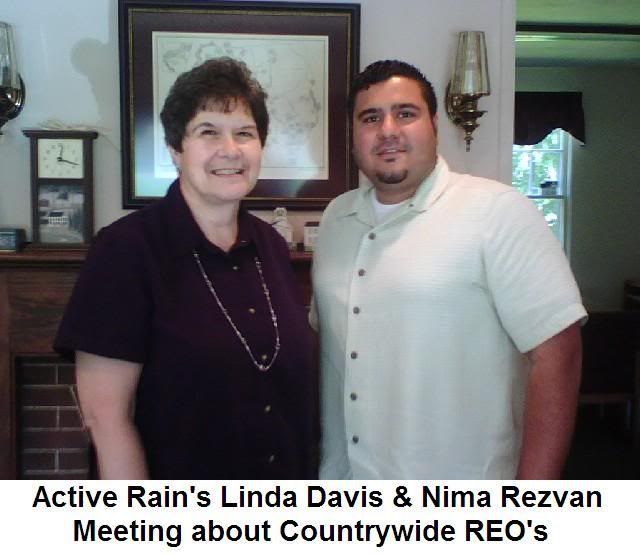 Got Active Rain? I would like to share with you another positive ActiveRain Real Estate Network story. On Tuesday July 24, 2007 around noon time, I was on my way back from a family vacation in Newport, Rhode Island when before leaving the resort I remembered that there was a very nice real estate broker that I e-networked with here on http://www.activerain.com/ . I contacted Linda Davis and I asked her if she was available today. Although it was almost last second, Linda Davis made room in her busy schedule to meet me in person. She notified me that she had an important Real Estate meeting in Phoenix and that she had to catch a plane so our meeting could only be about 20-30 minutes. I put Broker Linda Davis's address into my GPS and I was off to meet with her. As I pulled up to her office, I was impressed. What a great office and perfect location. I parked my car and entered her office to only be greeted with a friendly/warm smile of one of her agents.
The time was here, I finally got to meet Linda Davisin person. We shook each others hand and even hugged one another. Her office was fabulous and right away I knew that I was in a meeting with a proven real estate professional and a proven winner. Thanks to Active Rain, our first meeting felt like we had known one another for a few years. She was a sweet person who accepted me into her office and our appointment with open arms. I felt right at home and our meeting was a very successful one. We discussed how foreclosures are on the rise all over the country including Connecticut. When you are a great real estate broker and you have years of experience in real estate then you are given an opportunity to list bank owned properties. Linda Davis is one of the real estate listing agents for Countrywide REO's in her territory. She currently has 2 Countrywide REO (Real EstateOwned) properties. I told her up front that I know that she has been in the business for 30 years and that I'm sure she has a great working relationship with other loan officers or mortgage brokers so that I would like to become her primary Countrywide Home Loans representative for these Countrywide REO's. When there is an interested buyer for a Countrywide REO, then you need to be pre-approved by a Countrywide loan officer first but you don't have to receive your mortgage through Countrywide Financial - Home Loans - Equity Loan Mortgages .... Our first meeting was up quickly and she had to get ready for her business trip to Phoenix. I was very pleased with our meeting and was excited to know that Active Rain gave me an opportunity to e-network with a wonderful real estate professional like Linda Davis which then turned into a face-to-face networking opportunity for the two of us. We could have definitely met longer or discussed more but we both had to get going. I had a 2pm appointment in my Norwalk, CT office and she had to catch a plane. We exchanged business cards, took a couple of pictures together and embraced one another goodbye.
_________________________________________________________________________________________
Meet Linda Davis:
Linda Davis
Broker/Owner
RE/MAX Realty Group
8 Hurlbutt Drive
Gales Ferry, CT 06335
| | |
| --- | --- |
| Linda Davis was licensed as a real estate agent in 1977 and earned her broker's license in 1986. She has helped 100's of families with their real estate needs. | |
Designations:

ABR (Accredited Buyer's Agent)
CRP (Certified Relocation Professional)
CRS (Certified Residential Specialist) SRES (Senior Residential Specialist)
Awards:

RE/MAX International's Lifetime Achievement Award and Chairman's Club
#1 Realtor- Ledyard, Connecticut
Top 5% Eastern CT Association of Realtors
Community Involvement:

Member, Ledyard Town Council
Ledyard Parks and Recreation Commission
Eastern Connecticut Chamber of Commerce
Recipient, Ledyard Outstanding Woman of the Year
Realtor Involvement:

Past President, Southeastern Connecticut Board of Realtors
Recipient, Realtor of the Year
Member, (ERC) Employees Relocation Council
If you are interested in Countrywide REO property in Gales Ferry or any surrounding towns, then contact Real Estate Broker Linda Davis by visiting her website at: http://www.ctrelocation.com/
Subscribe to her Eastern Connecticut Real EstateBlog: http://blog.ctrelocation.com/
If you need to be pre-approved for a Countrywide REO then please contact me by clicking here now: Contact Nima now!
Thanks again for reading my blog and as always I hope you have a great day.
Your Active Rain Mortgage Man,
Nima Rezvan
Home Loan Consultant
Countrywide Home Loans
48 Westport Avenue
Norwalk, CT 06851
203.913.6016
I work nights/weekends for your convenience! I'm always ready to service all of your Real Estate Financing needs whether it being a Purchase or Refinance.