Part 1 of a Series
The image above may look like just a shot of Mandalay Bay and Luxor Las Vegas, but if you click on it for my 1920x1080 HD screen background, you'll see thousands of rooftops behind them. That is just a sliver of the Las Vegas Valley, only one section to the west. While Summerlin takes up 22,500 acres on that side of the valley, and to the north and south of this shot, it only includes an area closest to the Spring Mountains. There are so many other communities lying in between.

Yes, Summerlin, Green Valley, Rhodes Ranch, Tuscany Village, MacDonald Highlands, Anthem, Aliante, Madeira Canyon, Mountains Edge, Inspirada, Providence, Centennial Hills, Sun City, Lake Las Vegas... these are just several of the better advertised, or commonly mentioned community names that I'll often hear when contacted by a client. They've 'heard', either online or 'asking around' that these are good areas to buy or live. While that may be true, the Las Vegas Valley covers approximately 600 square miles, and these communities represent only a small portion of the area.

While they are great master planned communities, there are questions that need to be answered for the individual home buyer's benefit. "Is it is a good place for them to live or invest?" "What best fits their budget and lifestyle?" "Do they prefer select access to work, schools, shopping, recreation, highways, airports?" "Do they want something with an urban, suburban, or more rural residential feel?"

These are just some of the questions that need to be answered, and where having a knowledgeable REALTOR® as your buyer's agent is invaluable. Real estate, whether buying for your own home or as an investment, isn't something that fits well into the self service / DIY category. Sure, there may be a few who can defend themselves in court, or perform their own surgery or dentistry, but I think the vast majority would much prefer the services of a professional on their side. :)

For the home buyer or real estate investor, the services of a Buyer's Agent are typically paid for by the seller, with rare exceptions. This makes it pretty silly to go it on your own or use the 'advise' of others that don't work in the industry on a day to day basis.

While Las Vegas has had nearly 40 million visitors a year, the majority don't know much about it as a place to live. As far as that goes, I've met numerous people living here that don't know exactly where they live in the Las Vegas Valley, let alone what lies beyond their own realm.
I recently worked with an investor from Tel Aviv that found this to very true. He fell in love with the beauty of Lake Las Vegas, and it's Mediterranean style. He was shocked when he asked opinions of it from various workers around town, from hourly to management levels, only to get typical responses of "I've heard it was nice." "WHAT?" He exclaimed, "They've never been there? Even if they don't live there, they must visit it, it's gorgeous!" I explained to him that this isn't really that unusual, that often people develop their own circle of work, neighborhood, and recreation, and don't often go much past it. While that is true in most areas, Las Vegas has so much to offer, it's very easy to miss so much of what is 'hidden in plain sight'.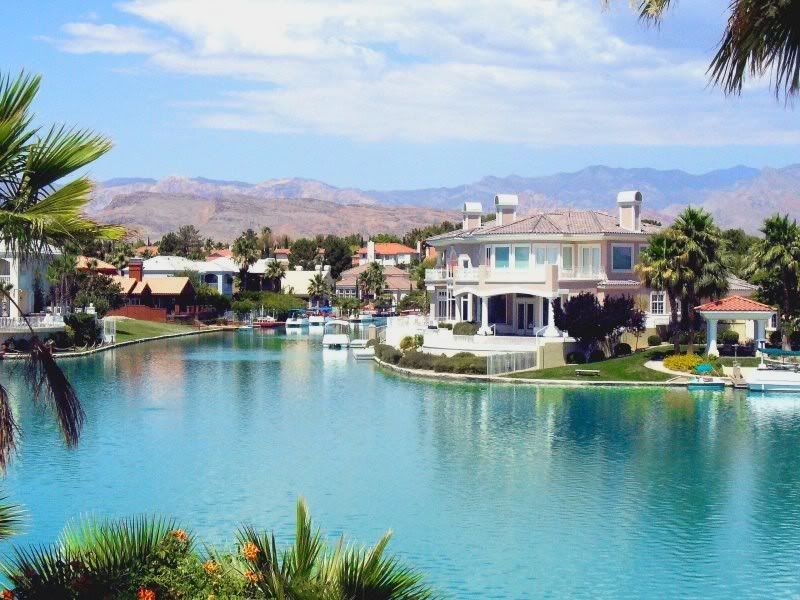 Click for Larger Image
Even though he had been a regular Las Vegas visitor over the years, especially since he had lived in California for some time, he was still surprised by what I next told him. There are other lake front communities in the Las Vegas Valley. There is also an orchard with pick your own fruits and vegetables. Snowboarding, skiing, and sleigh rides at Mt Charleston, just 45 minutes or so away, and an amazing array of recreation to be found here. His reaction to these and my other surprises was similar to the reaction I get from so many Las Vegas locals and visitors...."What? Here in Las Vegas?"
I've at times been surprised by what I've seen written online, even from media sources, that could give one the wrong impression of Las Vegas. Just one simple example was a local journalist, blogger, and podcaster that has become known for his accuracy and objectiveness in his writing. He was shocked to see a NV Dept. of Wildlife ad at the airport to promote fishing in Las Vegas. He commented something to the effect of... 'Who comes to Vegas and says dang I should have brought my pole, and can't you think of better places for a fishing expedition than this land of manmade catfish stocked lakes."

While I don't fish, I do know there are manmade urban lakes, that are stocked with trout. There's also the largest manmade lake in the country, Lake Mead, just next door. You can see just a portion of the Boulder Basin in the picture above, and that's just small piece of the over 500 miles of shoreline the lake offers...and holds an estimated 15 million fish, nearly 10 million believed to be striped bass, along with largemouth and smallmouth bass, channel catfish, bluegill, crappie, green sunfish and rainbow trout. As a matter of fact, the very first Bassmaster Tournament was held at Lake Mead in 1971.

Yes, when you know that they've pulled some large fish, like this one, from the lake and the Colorado River below the dam that flows into Lake Mojave, you might just be saying 'Dang, I should have brought my pole'. At the very least, you might want to Google fishing Las Vegas, NV for gear, bait, charters, guides, and more. A lot to be found in these parts, even if some don't see Las Vegas as a fishing destination that it is.

So why are details like this important to a Las Vegas home buyer or investor? Simple....PERSPECTIVE. A buyer may not consider purchasing a home with extra garage space or parking if they're lead to believe there's no fishing or boating to be had. It would be a shame for them to find out afterward and say "Dang, I wish I had that space." For the investor, it may be difficult for them to see any potential marketing value in a home that has that extra parking and could possibly offer them and edge on competition of other rentals.

Local information of all types and valley wide is what a good REALTOR® can provide. As your Buyer's Agent, I become your source of the whats and wheres of Las Vegas, in addition to valuable statistical market information and transaction procedures. As a Nevada permitted Property Manager not only I can offer those services, but lists of vendors I've used that may be handy for your new home. It's this service and experience that will benefit you, by provinding you with the facts you need to know to make your best home buying decisions.
Part 2 of this Series - Buying New Las Vegas Homes, Resales and Foreclosures
If you are interested in relocating to Las Vegasor would like more information on Las Vegas real estate, please email me, at Roberta@RobertaLaRocca.com, or call 702-354-8988. I look forward to hearing from you!

Click the Black Bar to Subscribe to my rss feed


Search Las Vegas Homes and Foreclosures for Free - No Signup Required!