So I'm browsing through the MLS tonight searching for some homes to email a new client and all of a sudden I realize I'm getting confused about what time of year it is.
In east Tennessee we have 4 very distinct seasons; there is no confusion at to when it's Summer, Spring, Winter, and Fall because of the colors and what's typically in bloom.
After checking the calendar and confirming today is indeed the first day of August you might understand my confusion better when you see that I'm looking at home photos like these below.
This photo with no leaves at all on the trees tells me this photo was likely made in the Winter. Wonder how long this home has been on the market?
The photo below with the blooming pink Dogwood and other blooming bush in the background tells me this is a Spring shot; the Dogwoods around here typically bloom in April.
This is a typical photo of Summer in this area; everything is pretty uniformly green.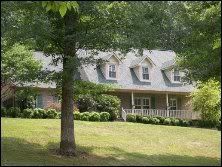 I'm no detective but this photo was almost certainly made in the Fall and since it's still summer here I can only assume it was the past Fall. Wonder how long this poor guy has been for sale?
So now maybe you can understand why my recent search caused me to check my calendar to see what month it is. You can also probably see a pretty good reason to check your listing photos to make sure they're not such an obvious clue as to what season it is and maybe how long it's been for sale.
Maybe you might even think about updating some for those listings you've had for a few months now? ;-)