The Alexandria Museum of Art was founded in 1977. Our community was honored in 1998 with the expansion and reopening of the museum. The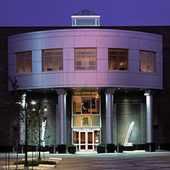 museum is a centerpiece of downtown Alexandria and Alexandria's riverfront.
The museum has a collection of loans around the world as well as contemporary Louisiana Art and the state's largest collection of North Louisiana Folk Art. No matter your taste in art, the AMoA has it. Featured exhibitions currently include The Photographer's Guild and The LSUA Faculty & Friends Invitational Exhibit. Both of these exhibits run until July 3, 2010.
Upcoming Events at The Alexandria Museum of Art
July 16- August 14, 2010: Contemporary Artists Guild of Central Louisiana Exhibition
July 19- July 30, 2010: Summer Art Camp (2nd Session) - This years camp theme is "Art Going Green" where students will learn to "create Found Object Art and Designs with Wood".
Visitor Information
Museum Hours: Tuesday to Friday Open 10am-5pm; Saturday Open 10am-4pm