This past Saturday evening the Murrieta Chamber of Commerce held their 50th Anniversary Installation of Officers and Community Awards Event at Monteleone Meadows. In keeping with the 50's theme, I'm hoping somebody got a photo of my white sport coat with the obligatory pink carnation. With my modified DA and spit curl, I was da bomb. Better yet, my wife took a page from the original Barbie catalog and went with BIG hair, a slinky black dress and long black gloves. We should won best costume but the Prom King & Queen looked pretty good too I guess. I don't know where he pulled that powder blue tuxedo and the fact that she looked about 6 months knocked up made it a classic. All in all a fun night.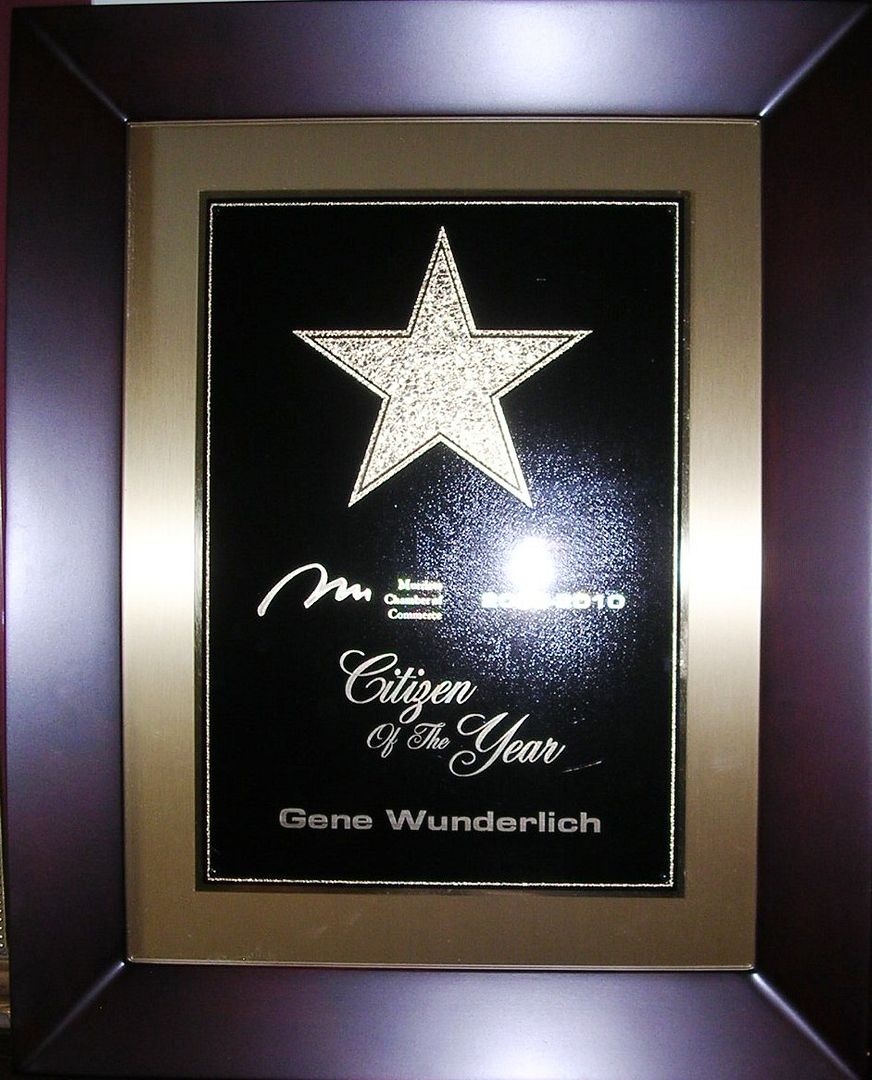 What made it even better was the fact that I was selected Citizen of the Year. Yeah - I know. Apparently they lowered the bar enough to allow me entry. Mind you, I'm not complaining. I've been nominated 3 times before and some cad far more deserving has always come out on top. I guess this year was a slow year so here I am.
The first time I was nominated was in 1999. That year the award went to a good friend and mentor by the name of Brian Padberg. Brian was truly a giant in the community and just to be nominated in the same category as him was a thrill. I was also newly divorced in 1999 and across the room I spied a vision in turquoise who happened to be there with a lady I knew. Now I've never done this before (or since) but I called my friend the next day and asked about the lovely she was with. Turns out her friend was also recently divorced and had been coaxed out of hibernation for the first time in a year. My friend passed along my contact info and since she had seen me nominated for Citizen of the Year (and won Home Based Business of the Year), she figured I might be OK - or at least worth taking a chance for dinner.
That date worked out pretty well and I ended up pursuing her for the next ten years until she finally caught me. We married on 8/8/08 on Kauai. In the intervening years I was again selected Small Business of the Year in 2002 and nominated for Citizen again in 2005 but the whole thing came full circle last Saturday when I got the nod and was there with my sweetie - not to mention both my kids and even my ex-wife, who remains a friend and was nominated for Small Business again for the newspaper she publishes.
What made it even sweeter was the California Legislative Resolution which was signed by two very good friends - Senate Minority Leader Dennis Hollingsworth and Assemblyman Kevin Jeffries as well as our other Assemblyman Brian Nestande. Dennis is termed out this year so having his signature on this particular proclamation is very special. The only thing missing was my old friend Brian Padberg. Brian died a few years back way too young. He still had a lot to contribute and I have no doubt if he was still around he would have made it a horse race.
So thanks for indulging me on this little self-promotional piece. A lot of my friends keep up with me through the internet and they will be shocked and amazed. As they frequently remind me, 'Your Mother always hoped you'd amount to '

something

'. She should have been more specific.' To you I say Nyaaah Nyaaah. Thanks mom. My Mom passed on 4 years ago but as my 97 year old Aunt reminded me yesterday, she would have been kinda proud.

No matter how old ya get, it's always nice to make your parents proud.