I sell real estate. That's what I do. But I build relationships every day. That's who I am. I'm a relationship builder. How you and I view what we do and who we are determines our attitude, our happiness, and in my opinion our success. There are two main reasons I believe this.
1. Life and a deep sense of joy is not about things, but people.
Some of the richest men in the world teach us that life is not about material things. It was John D. Rickefeller who said, "The poorest man I know is the man who has nothing but money," and "I have made many millions, but they have brought me no happiness." W.H. Vanderbilt said, "The care of $200,000,000 is enough to kill anyone. There is no pleasure in it."
Or how about these heart felt sentiments: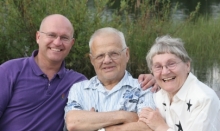 "I am the most miserable man on earth." John Jacob Astor
"I was happier when doing a mechanic's job." Henry Ford
"Millionaires seldom smile." Andrew Carnegie
Our lives are not about things, houses, and real estate. We are Realtors, but that is not who we are. That is not what brings us a deep sense of purpose and joy in this life.
2. Satisfaction and success come from a deeper purpose in life.
If we really believe that life is about relationships, we work with clients with a greater purpose than just finding them a home. We really put our clients at the center of the Universe, we care about their needs and their wants, and their ultimate happiness in finding the ideal home at the best price and terms.
Have you ever worked with a Realtor who handled the mechanics of the job sufficiently but was not very pleasant to work with? This is a person who thinks that being a Realtor is who he or she is, and clients are merely people who bring money to the table.
But the Realtor who loves people because life is about building quality relationships is someone who pays attention to the mechanics of a transaciton in order to care for and nurture his relationship with his clients and help them achieve their goals in the most positive process.
The Realtor who builds relationships is practicing the highest form of professionalism. This is the kind of Realtor I want on the other side of my transactions every time.