Simi Valley homes for sale for the month of April 2010 had a slight uptick. The gain in average sales price and the slight gain in the total number of Simi Valley homes sold, is largely related to the federal tax credit that expired April 30. Effects from the federal tax credit will be seen in the Home sales reported for May and June as part of the tax credit regulation required that Simi Valley home buyers have a property in escrow by April 30 but close their escrows by June 30.
Still looking at the charts below you can see that the action is in the lower end of the markets as this trend has continued over the last year. Even-though the tax credits have given us a little positive momentum there is still quite a bit of softness in home pricing throughout Simi Valley. A property I sold in May, in the Simi Valley Oakridge Estates, dropped below 2003 prices. Another property I am working on in the Madera Hills Tract would've had higher offers last fall than what we've been seeing this last week.
What has become significant in the Simi Valley market is the number of short sales occurring. Most of the listing calls I'm getting at this point are coming from people who need to short sell their property. While I work with plenty of equity sellers, short sales create their own drag on the overall market's ability to recover.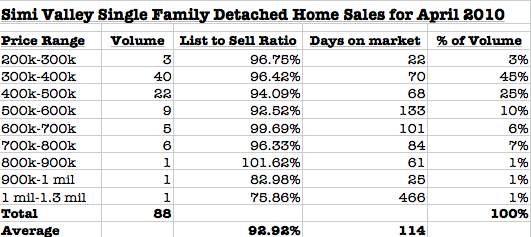 This is a Quick Graph of the Volume of Simi Valley Home Sales by Month since 2003 for single family detached homes. If you follow the chart you can see that the May, June and July figures all stay pretty close over the last couple years beginning after 2007. The news such as papers and TV reports on a much larger regional scale which lump the sales data for very large areas into one report. If you're planning to buy or sell a home in Simi Valley, you need to know what's going on in Simi Valley in order to come up with a strong strategy. Please bookmark or subscribe to this blog so you can see what is going on locally in Simi Valley.