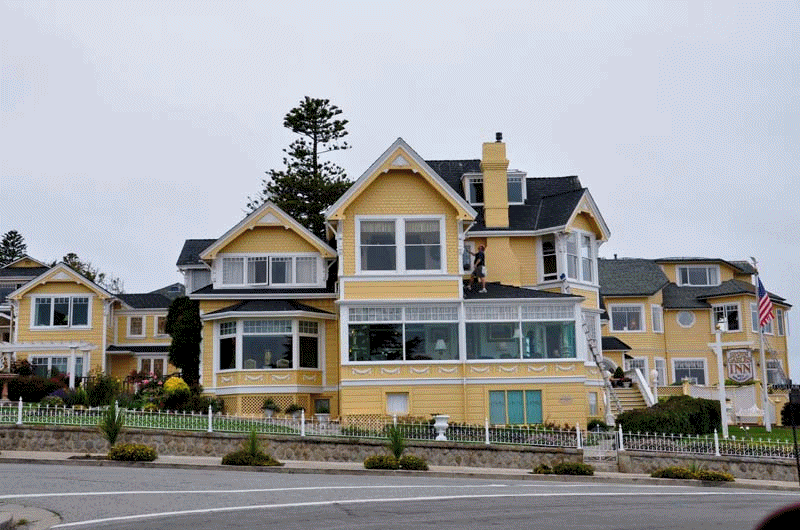 (Slide Show contains 14 images)
If ever a place existed for my ten year old grandkid, Isabella, to become acquainted with the ocean, it would be the area of the Pacific that hugs the shoreline along Santa Cruz, Capitola, Carmel, Pacific Grove, Pebble Beach, Monterey, and Big Sur. When daughter Tami, Isabella and I, left home last week to adventure in that direction, connection with the sea was the goal.

We weren't disappointed!

To prove this recent coastal journey wasn't all about Salt Water Taffy as blogged a couple days ago, or the Monterey Fisherman's Wharf, this slideshow features other areas of the Monterey Peninsula and sites around Carmel.

The first shot above is of the Seven Gables Inn at Pacific Grove. Also photographed is the Lone Cypress at Pebble Beach - likely the most photographed tree in the world.

The quaint village of Carmel, with its storybook dwellings and shops, gifts special delight. Nearby, you can find a threshold of history at Carmel Mission, where Father Junipero Serra, founder of the Franciscan Mission Chain in California during the 1700s, is buried in the mission floor. I blogged more extensively, about the Carmel Mission, last December. You can Click Here to see a larger collection of mission photos and read more of its history.

In the last image of this slide show, I created a collage of photos I captured at my favorite restaurant in this area of the coast. It is aptly named, The Whole Enchilada. It is conveniently located at Moss Landing, along Highway 1, between Watsonville and Monterey.

There were very few "must do" items on my list for this trip. . .But dinner at The Whole Enchilada was at the very top of that list. Voted "Best Mexican Restaurant" in a number of area polls, they provide some of the best seafood dishes around. The catch of the day is right off the local fishing boats and prepared in the authentic Mexican coastal style. The Whole Enchilada not only has the finest Coastal Mexican food available, it has the exquisite hospitality of the owner and host, Ray Retez. Ray makes a point to visit each table and greet each guest, making them feel he has known them their entire lives. Ray's son-in-law, Luis is the cook - an extraordinary cook at that!

The Whole Enchilada possesses a colorful, funky Mexican Tiki hut type decoration, picturesque boat masts visible across the road, large menu with reasonable prices.

Grandkid Isabella had Prawns cooked in garlic butter. My daughter ordered up the Chicken Enchiladas, and I consumed the amazing Seafood Stuffed Chili Relleno.

All were wonderful.