Boise Idaho Area Real Estate Prices:
If you are an Idaho real estate seller, don't kick yourself too hard for not putting your house on the market a couple years ago. If you have held off for this long, hopefully you can make it through the turn, wherever that might be.
For Ada County average home prices, the drop has been significant, a whopping 25% down from this time 2 years ago (August 2010). For Canyon County home prices, however, the drop has been astounding! The average sales price of a single-family residence dropped 33% in the same 2 year period!
Take a look...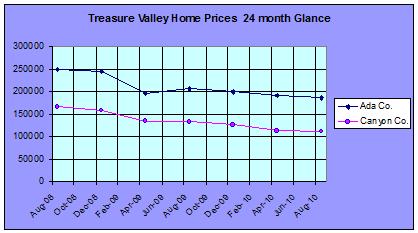 Of course, the number of distressed properties for sale in Idaho has been the major factor when watching these decreasing home values, however, the unemployment rate has also played a significant role in the Boise area real estate market.
The ratio of distressed properties in the Boise area has increased approx. 10% within the last year, including both Idaho short sales and Idaho foreclosures.
The good news: Home prices are low and interest rates are low! Now, is the time to buy Idaho real estate. If you have ever thought about investing in Idaho real estate or buying a rental, I would certainly take a look at your finances and your borrowing power and consider creating an extra stream of income.
Warren Buffet said, "We simply attempt to be fearful when others are greedy and to be greedy only when others are fearful."
The good old adage, "Buy low, sell high," is still good advice!