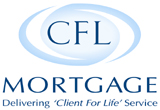 At CFL Mortgage we help our clients make informed financial decisions
about the most important investment of their lives is their home

Michael J. Brosmith
CFL Mortgage
Michael J. Brosmith
CFL Mortgage
Office: 336-855-5715
E-Mail: mike@cflhomemortgage.com

For the week of Aug 13, 2007 --- Vol. 5, Issue 33
Last Week in Review


IT WAS THE BEST OF TIMES, IT WAS THE WORST OF TIMES...Wait, maybe last week was just plain the worst of times, as far as the financial markets around the globe were concerned. French bank BNP Paribas - the largest bank in France and second largest in Europe - touched off a crisis in Europe on Thursday when it announced that it couldn't determine the values of three of their mutual funds due to their containing US sub-prime mortgage investments, and actually prohibited withdrawals from these funds until a valuation could be made.
This led to a lack of confidence not only with their customers and investors, but also among all European Union banks. These banks, not knowing the extent of each other's investment exposure in US mortgage backed securities, suddenly realized they couldn't trust one another enough to lend each other money via normal inter-bank loans. This created an instant "liquidity crisis" in Europe, and Stock markets across the world reacted negatively as a result.
The European Central Bank, their equivalent of our Fed, took immediate action to stem the crisis by allowing their banks to borrow $131 Billion last Thursday and another $83.8 Billion on Friday. The amount borrowed shocked many analysts, as it was more than three times as much borrowed during the crisis created following the events of 9/11. Back in the US, the Federal Reserve Bank of New York intervened in the liquidity crisis here in the US by adding $84 Billion of liquidity to our own banking system. The Fed's intervention is designed to stabilize our financial markets by restoring confidence, and allowing the markets to continue to trade in an orderly fashion. And while the Fed left the Fed Funds Rate stable following their meeting last week, the current liquidity crisis will likely give the Fed the impetus to cut rates, and cut them aggressively. It may even happen before their next scheduled meeting on September 18th. For perspective, the last time the Fed made rate c hanges outside of a scheduled meeting was on September 13th and 17th, 2001 - just following the disastrous events of September 11th, 2001.
Amazingly enough, in spite of all the dramatic action, conforming home loan rates ended the week close to where they began.
AND SPEAKING OF A CRISIS AND THE WORST OF TIMES...IMAGINE THAT THE COMPUTER SCREEN YOU ARE LIKELY READING THIS ON GOES BLACK, THEN YOUR COMPUTER MAKES A HORRIFIC NOISE AND NEVER COMES TO LIFE AGAIN. ARE YOU PREPARED FOR A PERSONAL CRISIS OF THIS MEASURE? YOU WILL BE...IF YOU READ AND ACT ON THIS WEEK'S MORTGAGE MARKET VIEW.
Forecast for the Week


And just in case you were worried the week ahead wouldn't hold enough action and excitement, this week sizzles with economic news events. The calendar holds Retail Sales on Monday; the Producer Price Index, measuring wholesale inflation on Tuesday; the Consumer Price Index, measuring consumer inflation on Wednesday; Housing Starts and Building Permits on Thursday; and Consumer Confidence on Friday.
If the economic news shows low inflation and a slowing economy, Bond prices and home loan rates should improve - on conforming loans.
But remember that in the current climate, non-conforming loans are a different animal altogether. If you are in the market for a non-conforming loan, the rates on those products are responding to very different factors in the market, and are extremely volatile. Your best bet is to lock quickly, and close quickly, as the landscape for those products is changing on almost an hourly basis.
Chart: Fannie Mae 6.0% Mortgage Bond (Friday Aug 10, 2007)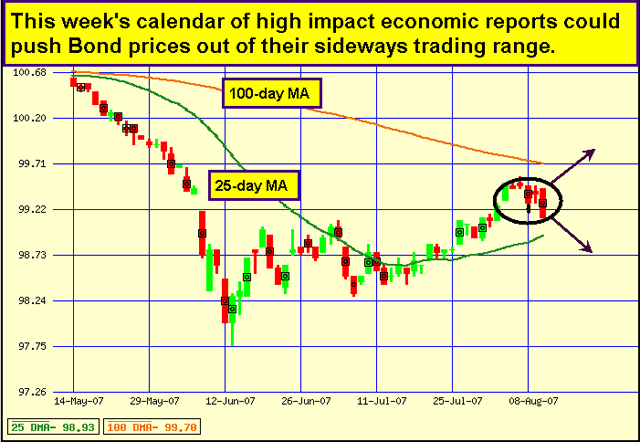 The Mortgage Market View...


DON'T KNOW WHAT YOU'VE GOT...TILL IT'S GONE!
Take a second to think about all the information you store on your computer. Ok...it may take more than a second. In fact, it may take all day and even then you will not have a complete inventory. Office work, research, addresses of friends and family, schoolwork, financial information, thousands of irreplaceable family photos - they all go on your computer. Not to mention the expensive software that runs the entire system!
But what happens when your computer goes on strike...when it just stops working? Do you have a plan to recover the data you need to run your life? Better yet, do you have an up-to-date backup waiting in the wings for just such an emergency? Don't wait until it's too late. Put the following tips to work and you could save hundreds, even thousands of dollars...not to mention a major headache!
Hold On to Those Disks. You know those disks that come with your computer...the ones with all the software on them...the ones you throw in a drawer and forget about? Well - don't. Even though software often comes preloaded and ready to use, those disks and serial numbers are priceless. Keep them in a safe, memorable place and you'll be able to easily reload your software after a crash.
Rule of Thumb. Those little USB flash drives or "thumb drives" that you see everyone carrying around now are an ideal, inexpensive way to backup small files for short periods of time. Whether you're moving information from one computer to another or you want to make sure a critical company report doesn't get lost before the client presentation, these handy devices are well worth the small amount of money you'll spend for 4 GB of peace of mind.
Don't Get Burned...Do the Burning Instead. Most computers come standard with CD/DVD burners. Contrary to television commercials, you can burn more than just song compilations. Make the most of this device by backing up your important data regularly. Most DVDs can hold 4.7 GB, or you can double the data with double layer DVDs (known as DVD DL) that can hold up to 8.5 GB!
Take it Outside. To backup every last byte of data, add an external hard drive that operates independently of your computer. Products like Seagate's FreeAgent storage devices offer you a variety of options...as well as the ability to access your information even when you're not at home, so you can open a document or even view your family photos from out of town.
Leave Home Without It. For the best level of protection, move data out of the house altogether. Storing your IT off-site protects it from fire, theft, and flooding. And it's not as expensive as you might think. In fact, you can get a ton of space free from services like Yahoo! and AOL. At that price, the only thing you have to lose is your data if you don't back it up!
Once the Damage is Done. If you've already lost your data, you may actually be able to recover it...the cost, however, runs anywhere from the hundreds to the thousands. The best place to start may be the inexpensive options, such as SpinRite for Windows PCs and Alsoft's DiskWarrior for Macs--both of which retail for around $100 or less.
Don't wait until the worst-case scenario happens - act now to protect your important data files.
The Week's Economic Indicator Calendar