Useful Websites #22
Here is Useful Websites #22:
(Day 22 of my 30-day challenge!)
And what is the website you'll be introduced to today? This is something I used to remember.

This is a fun site and useful, too. The name is interesting, it reminds me of my childhood days where I invariably will forget something important and Mom would remind me about that!

This website is on the similar lines as one of the earlier useful website - http://www.TaDaList.com/ - but this one seems to be offering little more than the TaDaList.

Here it is - Useful Website #22:
http://www.RememberTheMilk.com/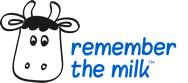 This is a fairly simple website - and if you are using Outlook or any other CRM, you may not need it - is what you think, I believe.

The limitation of Outlook is - you must have your laptop with you on which your Outlook is installed, or have your schedules synced with your smartphone. But I bet, only handful of us are as much disciplined to do that on regular basis. (At least, I have to admit - despite it's easy for me to do that, I don't sync my laptop and smartphone.)

Let me first tell you - though you may have guess by now what this website is useful for. Remembering The Milk. And milk is defined as your tasks. ( For a fraction of a second I thought of 'Eat That Frog' when I mentioned about the tasks. Well, you can very well conncet the two. 'Eat That Frog' is a book by Brian Tracy - and for me, even though it's not the most difficult task of the day, remembering the milk for this month is posting one useful website each day - till September 28th!)

This is from the website:

That's the key. Never forget the milk (OR ANYTHING ELSE) again.!
Just a few things you can do with Remember The Milk...

Manage tasks quickly and easily.
An intuitive interface makes managing tasks fun. Set due dates easily with

 

next Friday

 

or

 

in 2 weeks. Extensive keyboard shortcuts make task management quicker than ever.

Get reminded, anywhere.
Receive reminders via email, SMS, and instant messenger (AIM, Gadu-Gadu, Google Talk, ICQ, Jabber, MSN, Skype and Yahoo! are all supported).


Organize the way you want to.
Are you a list lover? Create as many lists as you need. Into tagging? Use the task cloud to easily see what you have to do. Want to store notes along with your tasks? You can do that too.


Locate your tasks.
Use the map to see where your tasks are located in the real world. See what's nearby or on your way, and plan the best way to get things done.


Work together to get things done.
Share, send and publish tasks and lists with your contacts or the world. Remind your significant other to do their household chores.


Add tasks wherever you are.
Adding tasks is as simple as firing off an email (even from your phone). See an important date on the web? Add it to your list with Quick Add.

You just need the Internet access to Remember The Milk! And, yes, I do have a data plan on my smart phone so I can access the 'milk' from my iPhone, too.

I hope you liked today's website.

Your comments/suggestions are welcome.
----------------------------------------------------------------------------------------------------------------------------------------
I have joined the blog-a-day blogathon for 30 days. This is day 22 of the 30-day-challenge. Woohoo.. more than.70% of my journey is over! and I know, it does get tougher and tougher as you reach your goal. In fact I am so much encouraged by response, I may add few more website at the end! And one more suggestion is to re-visit all of them in may be, couple of posts, covering 15 websites in each.

In these 30 days, what better could it be to share something either I learned from some of the ActiveRainers or some other resource online and share it with the group?
At times, I may not know where and how I learnt about the websites and may not be able to give due credit to someone who informed me about that, but I still want to Thank all of them who contributed to my knowledge which I plan to share.
I am trying to use different field each day - and have now more than 30 such websites. Will I continue after 30 days? Let's see - first things first- I want to completed this 30-day challenge. I am trying to avoid some of the more familiar websites and focusing on some that may not be known to most of you - and still, yes, useful.
You can create a free account on many of these websites and some of them may have some minimal subscription fees. I am sure, these websites will help you in your business - one way or another.
(Disclaimer: I am not affiliated with any of these websites not do I derive any income from any of these sites - except that I do subscribe to some of these services. Please use them at your own risk - and let me tell you, I have used them and did not find it 'risky'.)
-------------------------------------------------------------------------------------------------------------
Look out for the next in series - Useful Websites #23 - and it will be....(I think I'll talk about something to do with flooring in next couple of them.)

And here are the links to my previous blog-posts for easy reference:
Useful Websites #21

Useful Websites #20