"THERE AIN'T NO CURE FOR THE SUMMERTIME BLUES..." Eddie Cochran And although Bernanke and the Fed can't do much to help you overcome the feeling of summer slipping away - their actions have helped to stabilize the financial markets, and calm some of the "credit crunch blues". Just over a week ago, the Fed made a decision to lower the rate at their "Discount Window", allowing banking institutions another method of providing assurance of liquidity to their clients, and also helping many institutions continue to fund home loans. Due to the Fed's action, the past week was somewhat calm in the financial world...at least calmer than has been seen in awhile. Both the Stock market and the Bond markets moved higher, and conforming home loan rates remained stable to very slightly improved.
Further, some decent news arrived on the housing front via the New Home Sales report, showing a 2.8% increase in sales for July, and an upward revision to June's numbers as well. Unsold new home inventory continued to decline for the fourth consecutive month, falling by 1.0% to 533,000 homes. This inventory represents a 7.5 month supply, down from the 7.7 month supply in June. Additionally, the median new home sales prices edged higher to $239,500. Not bad news overall, particularly considering the current landscape in the lending industry.
SO YOU'VE SEEN THE HEADLINES ABOUT THE FED AND THE DISCOUNT RATE...BUT MANY PEOPLE ADMIT TO HAVING THEIR EYES GLOSS RIGHT OVER. HOW DOES THIS ALL IMPACT YOU? FOR A SIMPLE EXPLANATION, READ THIS WEEK'S MORTGAGE MARKET VIEW. YOU'LL GET THE WHOLE SCOOP, AND UNDERSTAND WHAT YOU SHOULD DO RIGHT NOW.
Forecast for the Week


Looking ahead, it appears that Bonds will have dual challenges of "fundamentals" and "technicals" to overcome if home loan rates are to see much improvement in the coming week.
"Fundamentals" are the news items and reports which can influence Bonds and home loan rates. In general, hot or positive economic news tends to help Stock prices get better, but causes Bonds and home loan rates to worsen - and vice versa. This week, there will be a slew of potentially high impact reports in store, ending with a very important read on inflation by way of the Core Personal Consumption Expenditure Price Index (PCE). Should this read on consumer inflation come in hot, showing inflation on the rise - Bond prices and home loan rates may worsen. But if the reading shows inflation to be controlled and moderating, Bonds and home loan rates may improve.
But then there are the "technical" factors to contend with too, although they tend to take a back seat to important economic reports and news. One part of technical analysis means looking at where Bonds are trading now, versus where they have in the past, and thinking about what patterns are likely to repeat themselves. Remember that when Bond prices move higher, home loan rates move lower.
And in the past, the 200-day Moving Average of Bond pricing has proven to be a very tough ceiling to break, when Bonds are beneath it and attempting to move higher. It has also been a strong floor of support, when Bonds are trading above this level, helping to prevent home loan rates from worsening. Now that Bonds are below this level, a break higher would mean that home loan rates would improve - but it has been a tough level to beat in the past, and this ceiling may slow down or cap any improvements or advances that come via economic news.
Chart: Fannie Mae 6.0% Mortgage Bond (Friday Aug 24, 2007)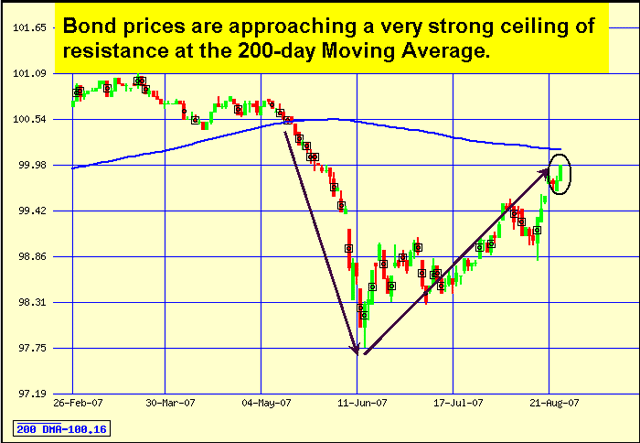 (Information provided by CTX Mortgage)
RE/MAX Elite
615-957-6333