At CFL Mortgage we help our clients make informed financial decisions
about the most important investment of their lives is their home

Michael J. Brosmith
CFL Mortgage

Michael J. Brosmith
CFL Mortgage
Office: 336-855-5715
E-Mail: mike@cflhomemortgage.com
For the week of Aug 27, 2007 --- Vol. 5, Issue 35
Last Week in Review


"THERE AIN'T NO CURE FOR THE SUMMERTIME BLUES..." Eddie Cochran And although Bernanke and the Fed can't do much to help you overcome the feeling of summer slipping away - their actions have helped to stabilize the financial markets, and calm some of the "credit crunch blues". Just over a week ago, the Fed made a decision to lower the rate at their "Discount Window", allowing banking institutions another method of providing assurance of liquidity to their clients, and also helping many institutions continue to fund home loans. Due to the Fed's action, the past week was somewhat calm in the financial world...at least calmer than has been seen in awhile. Both the Stock market and the Bond markets moved higher, and conforming home loan rates remained stable to very slightly improved.
Further, some decent news arrived on the housing front via the New Home Sales report, showing a 2.8% increase in sales for July, and an upward revision to June's numbers as well. Unsold new home inventory continued to decline for the fourth consecutive month, falling by 1.0% to 533,000 homes. This inventory represents a 7.5 month supply, down from the 7.7 month supply in June. Additionally, the median new home sales prices edged higher to $239,500. Not bad news overall, particularly considering the current landscape in the lending industry.
SO YOU'VE SEEN THE HEADLINES ABOUT THE FED AND THE DISCOUNT RATE...BUT MANY PEOPLE ADMIT TO HAVING THEIR EYES GLOSS RIGHT OVER. HOW DOES THIS ALL IMPACT YOU? FOR A SIMPLE EXPLANATION, READ THIS WEEK'S MORTGAGE MARKET VIEW. YOU'LL GET THE WHOLE SCOOP, AND UNDERSTAND WHAT YOU SHOULD DO RIGHT NOW.
Forecast for the Week


Looking ahead, it appears that Bonds will have dual challenges of "fundamentals" and "technicals" to overcome if home loan rates are to see much improvement in the coming week.
"Fundamentals" are the news items and reports which can influence Bonds and home loan rates. In general, hot or positive economic news tends to help Stock prices get better, but causes Bonds and home loan rates to worsen - and vice versa. This week, there will be a slew of potentially high impact reports in store, ending with a very important read on inflation by way of the Core Personal Consumption Expenditure Price Index (PCE). Should this read on consumer inflation come in hot, showing inflation on the rise - Bond prices and home loan rates may worsen. But if the reading shows inflation to be controlled and moderating, Bonds and home loan rates may improve.
But then there are the "technical" factors to contend with too, although they tend to take a back seat to important economic reports and news. One part of technical analysis means looking at where Bonds are trading now, versus where they have in the past, and thinking about what patterns are likely to repeat themselves. Remember that when Bond prices move higher, home loan rates move lower.
And in the past, the 200-day Moving Average of Bond pricing has proven to be a very tough ceiling to break, when Bonds are beneath it and attempting to move higher. It has also been a strong floor of support, when Bonds are trading above this level, helping to prevent home loan rates from worsening. Now that Bonds are below this level, a break higher would mean that home loan rates would improve - but it has been a tough level to beat in the past, and this ceiling may slow down or cap any improvements or advances that come via economic news.
Chart: Fannie Mae 6.0% Mortgage Bond (Friday Aug 24, 2007)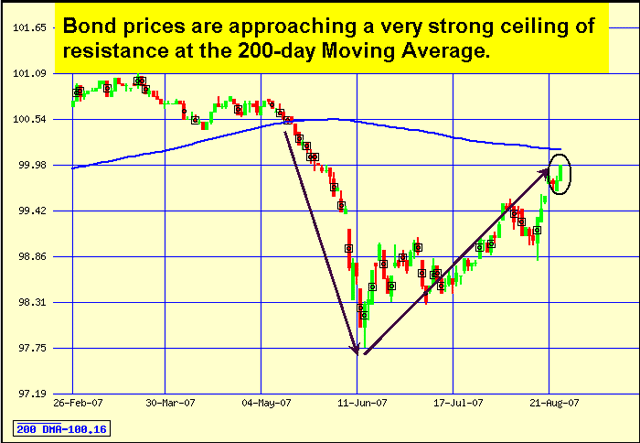 The Mortgage Market View...


Fed Discount Window Cut - What does it mean for you?
The Federal Reserve has taken significant action in the last few weeks due to the credit crunch. And now they've made an unexpected move by cutting the discount window rate, which is great news. We'll get to that in a minute, but first let's look at recent events and understand what they mean.
Market movement
To date, over 120 mortgage companies have closed their doors due to reduced liquidity. The result: borrowers who want to take out non-conforming loans have fewer, more expensive options.
Many media outlets have incorrectly added fuel to the fire by stating mortgage lending has stopped altogether and borrowers can't get a loan without a 20% down-payment. This is not true.
Conforming interest rates and loan programs, those backed by Fannie Mae and Freddie Mac, have not been significantly impacted by recent events. Even better, interest rates have come down from recent highs. While this is good news, the market is experiencing unprecedented volatility and changes could come at any time. Borrowers need to act swiftly and decisively in today's climate.
What did the Fed do?
Now back to the discount rate. This is the interest rate charged to commercial banks and other depository institutions on the loans they receive from their regional Federal Reserve Bank's lending facility. The Fed's decision to cut this rate provides stability in the financial markets and this can be good for all of us.
How exactly does this provide stability? Here's an example: imagine you just wrecked your car and it requires $5,000 worth of repairs. You have a short-term need for cash to pay your mechanic. Even though you know you will eventually be reimbursed by your insurance company, you still need the cash now. So, do you sell off stocks to get the cash, or tap into an equity line of credit? Most likely, you draw from that line of credit rather than liquidating a long-term investment.
This is what the banks are facing in today's liquidity crisis. And Bernanke's move helps them avoid long-term damage by supplying access to short-term cash.
It's important to note the discount rate is different than the Fed Funds Rate, which directly impacts interest rates you pay for Home Equity Lines of Credit, credit cards, and automobile loans. Most importantly, the discount window rate cut does not directly impact home loan rates.
What should you do now?
Information, knowledge, and expertise are the building blocks of sound financial decision making. If you are considering financing or are in the process of financing a home, you should tap into the knowledge and resources of a skilled mortgage professional. I would welcome the chance to help you navigate these choppy financial waters.
And even if you are not presently planning on any home financing - it still pays to make sure your credit score is as high as possible, in case a credit or lending need does come up before you expect it. Again, please feel free to contact me - I am ready to help on all fronts.
The Week's Economic Indicator Calendar


Remember, as a general rule, weaker than expected economic data is good for rates, while positive data causes rates to rise.
Economic Calendar for the Week of August 27 - August 31
| | | | | | | | |
| --- | --- | --- | --- | --- | --- | --- | --- |
| Date | ET | Economic Report | For | Estimate | Actual | Prior | Impact |
| Mon. August 27 | 10:00 | Existing Home Sales | Jul | 5.70M | | 5.75M | Moderate |
| Tue. August 28 | 10:00 | Consumer Confidence | Aug | 106.5 | | 112.6 | Moderate |
| Tue. August 28 | 02:00 | FOMC Minutes | 8/07 | | | | HIGH |
| Wed. August 29 | 10:30 | Crude Inventories | 8/24 | NA | | 1890K | Moderate |
| Thu. August 30 | 08:30 | GDP Chain Deflator | Q2 | 2.7% | | 2.7% | HIGH |
| Thu. August 30 | 08:30 | Jobless Claims (Initial) | 8/25 | 320K | | 322K | Moderate |
| Thu. August 30 | 08:30 | Gross Domestic Product (GDP) | Q2 | 4.1% | | 3.4% | Moderate |
| Fri. August 31 | 08:30 | Personal Spending | Jul | 0.4% | | 0.1% | Moderate |
| Fri. August 31 | 08:30 | Personal Consumption Expenditures and Core PCE | Jul | 0.1% | | 0.1% | HIGH |
| Fri. August 31 | 08:30 | Personal Consumption Expenditures and Core PCE | YOY | NA | | 1.9% | HIGH |
| Fri. August 31 | 09:45 | Chicago PMI | Aug | 53.0 | | 53.4 | HIGH |
| Fri. August 31 | 10:00 | Consumer Sentiment Index (UoM) | Aug | 83.0 | | 83.3 | Moderate |
| Fri. August 31 | 08:30 | Personal Income | Jul | 0.3% | | 0.4% | Moderate |
The material contained in this newsletter has been prepared by an independent third-party provider. The content is provided for use by real estate, financial services and other professionals only and is not intended for consumer distribution. The material provided is for informational and educational purposes only and should not be construed as investment and/or mortgage advice. Although the material is deemed to be accurate and reliable, there is no guarantee it is not without errors.
As your trusted advisor, I am sending you the MMG WEEKLY because I am committed to keeping you updated on the economic events that impact interest rates and how they may affect you.
If you prefer to send your removal request by mail the address is:
Michael J. Brosmith
529 College Road, suite G
Greensboro, NC 27410
MMG II, LLC is the copyright owner or licensee of the content and/or information in this email, unless otherwise indicated. MMG II, LLC does not grant to you a license to any content, features or materials in this email. You may not distribute, download, or save a copy of any of the content or screens except as otherwise provided in our Terms and Conditions of Membership, for any purpose.