The city of Milpitas is part of the technology-rich Silicon Valley, yet, it is rustic in its own way. Located south of San Francisco, and between San Jose and Fremont, Milpitas is home to many technology companies like Intel, Cisco and SanDisk. It is also home to the Great Mall, a large shopping center that attracts many out-of-town shoppers.
So what homes are on the market in Milpitas?
As of 10/2/10, MLS has the following active listings:
- 79 single family homes
- 54 condo/townhomes
These numbers are broken down as follows:
Single Family Listings
Single family homes on the market are priced with a wide range, with a minimum of $297K and a high of $4.95 million. Most homes are quite evenly spread across the $300Ks, $400Ks and $500Ks.
3-bedroom and 4-bedroom homes nearly equally make up the bulk of single family listings.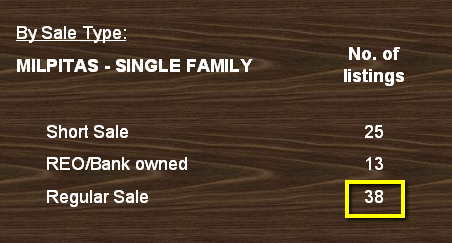 Regular sales dominate SFR listings, followed by short sales.
Condo/Townhome Listings
Nearly a third of condo/townhomes on the market are on the low price range, $200K and below, with a minimum of $129.9K.
The rest of condo/townhome listings are generally priced below $500K.
Condo/townhomes are generally 2-bedrooms and 3-bedrooms.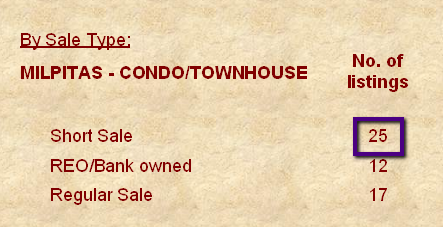 About half of condo/townhomes are short sales.
Map of Milpitas, CA: