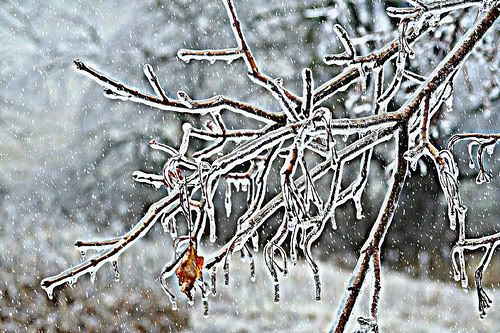 Well everyone, it's getting to be that time of year again..winter! Just thought I would go over some great tips to keep your home in tip-top shape! Let's not let your irrigation pipes turn into an ice sculpture!!
Water System:
1. Shut off water systems by turning off the pump or shutting the valve if on city water. Drain the pressure tank.
2. Open all faucets.
3. Break a union close to the valve so water will drain out clear to the shut-off valve.
4. Drain pump and run a second or two to be sure all water is out of lines from the pump.
5. Flush toilets and dip all water out of the flush tank.
6. Be sure to drain flexible spray hoses in showers and sinks.
7. Drain water softeners so water will drain back from soft water pipes and controls. Brine tank will probably not freeze.
8. Drain water heaters.
Heating Systems:
Electric heating systems require no maintenance other than shutting off the power to the heating units.
Hot air heating systems:
1. Turn off burner emergency switch which is often located at the top of the stairs.
2. Drain humidifier which is usually located on the furnace.
3. Forced hot water and steam systems: Drain all water in the system unless the liquid contains anti-freeze. It is wise to have this type of system drained by a plumber unless you are well-informed on the procedures necessary.
Washer and Dishwasher:
Water left in hoses and internal components can cause damage when it freezes. Shut off water supply to clothes washer. Remove and drain inlet hoses. Clear water valve by setting timer for fill cycle. Press warm water button and run machine a few seconds. Drain water from drain hose. Disconnect electrical supply.
For a dishwasher, remove inlet and outlet connection to the valve. Operate valve to remove any water. Remove drain hose from the pump and drain. Disconnect electrical supply.
It is also a good idea to clean the equipment and to protect the finish with a coat of appliance polish.
Stored Items:
1. Remove food, cosmetics, or medicine containers that contain liquid that would freeze from shelves.
2. Food in paper or plastic containers should be put in large metal containers to protect from mice or other rodents.
3. Remove or hide articles in the house that can be sold and converted to cash such as guns, radios, TV sets, tools or other valuables.
Sewage system:
1. Force as much water as possible out of traps with a plunger.
2. Add antifreeze to each trap so you have at least a 50% solution of ethylene – glycol and water. Sometimes fuel oil can be substituted for antifreeze.
3. Check for traps in these locations: kitchen sinks, bathroom sinks, bathtub and/or shower drains, toilets, washtubs, floor drains and maybe a sump pump.
Keep Out Animals:
1. Cover chimneys tightly so that raccoons cannot enter the house, or birds fall down the chimney.
2. Stop up any places in the foundation or around the eaves where squirrels, chipmunks, mice or other small animals can enter.
Insulation: Walls, Ceilings, and Pipes:
1. Invest some time in researching the R-value of your current insulation. Research what value you should have in your home. Replace the insulation in any areas that have the wrong value. Be sure that you check floors, walls, and ceilings.
2. If you do not have one already, purchase and install a hot water heater insulating blanket to conserve heat. This will also help to prevent water damage should you lose power for an extended time. Water heater blankets come with a simple set of directions.
3. Purchase special pipe insulating material. Insulate all exposed pipes in your basement and garage areas. If necessary, you might want to consider relocating the pipes to a heated area of your home. At the very least, use some heat tape to cover the pipes.
Electrical: Lighting and Fans:
1. Check for loose wiring on any lamps, lighting fixtures, and fans. Replace any that need it.
2. Clean all of your electrical fixtures completely.
3. Turn off the power supply to all ceiling fans. Oil the motor. Turn the power back on when you are finished.
4. Switch the direction of the ceiling fan's blades. This will maximize the benefit of circulating the heated air in the room.
Air Leaks:
1. To retain the maximum amount of heat in your home, replace lighter weight curtains with heavy drapes.
2. Caulk or add insulation plates to the electrical outlets to minimize heat loss due to air leaks.
3. Caulk or add insulation to pipe fittings that have air leaks.
4. Consider applying temporary weather stripping on your windows to prevent heat loss. At least consider this option for rooms that get little use.
Safety Precautions:
1. Replace any outdoor bulbs that aren't working. Be sure to check all of your outdoor lighting fixtures, including motion detectors.
2. Replace the batteries in existing smoke and carbon monoxide detectors.
3. Purchase smoke and carbon monoxide detectors for any floor levels that do not have one and install them.
4. Check all of the smoke and carbon monoxide detectors to make sure they are in working order.
5. Trim shrubbery, bushes, and trees away from windows and doorways.
6. Hire a professional to trim shrubbery, bushes, and trees away from electrical wiring.
7. Consider investing in a few solar lighting fixtures in strategic places.
Outdoor Faucets and Hoses:
1. To prevent problems that arise from freezing water, turn off the inside valve to each outdoor faucet.
2. Once the valves have been shut off, go outside and turn the faucet handle slightly to release any remaining water from the pipes.
Gutters and Roof:
1. Remove the debris that has gathered on the top of your roof. Use a soft bristled broom to prevent damage to your shingles. Gently sweep all of the debris into small piles in several areas of the roof. Bag the debris for proper disposal.
2. Next, clean the gutters by removing any debris. Leaves, roofing grit, feathers, and even trash have a way of finding the gutters for their final resting place. Removing them now could prevent blockage and water damage. First, remove any large pieces by hand. Dispose of these properly. Use a small hand tool, such as a trowel, spade, or dust brush to remove smaller pieces.
3. Clean out the downspouts next. Typically, these are found where the gutters meet the corners of your home. Use a pair of tongs to remove any debris within easy reach. Use a flashlight to look down through the gutter to check for further debris. If a buildup exists, you may have to invest in a metal snake to clean it out. Investing in this project can prevent a buildup of water on the roof that seeks a different path of exit, such as your ceiling.
4. Repair any fittings now. Minor damage generally involves a simple retightening of the fittings to secure the downspouts and gutters to your home.
5. Major damage to the fittings will require replacing them. Measure them for size before going to the hardware store.
6. Repair minor damage to the downspouts and gutters. Use a bit of silicone caulk and small pieces of aluminum to repair any small holes or tears. Small holes only enlarge over time and can lead to extensive water damage later.
7. Flush the roof with water to completely remove any small pieces of grit or debris.
8. Consider covering your gutters with a hardware cloth to prevent any future buildup of debris.
Doorways and Windows:
1. Check windows and doors to get an idea of the extent of necessary repairs.
2. Check for caulk that is beginning to pull away from the surface. Remove the old caulk completely and dispose of it properly.
3. Clean the surface area exposed by the removal of the old caulk.
4. Allow the area to dry completely. Re-caulk the area.
Wooden Decks: Pool and Other:
1. Gather large pieces of trash and dispose of properly. Sweep all debris from the deck area and dispose of properly.
2. Clean all outdoor furniture. Cover furniture to protect it form the harsh winter weather.
3. Clean and put away all pool toys, floats, and accessories including skimmers, thermometers, footbaths, etc.
4. Remove and replace any loose deck screws or nails with new ones. Dispose of old ones properly.