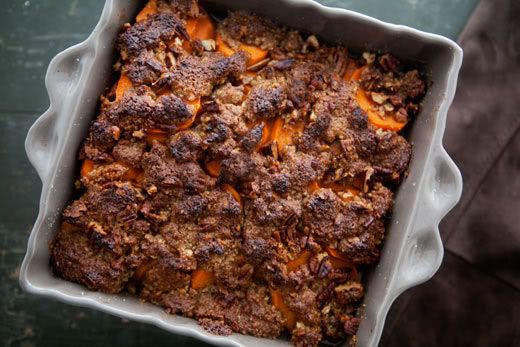 It's the perfect dish for the perfect Lake Arrowhead Thanksgiving! Maple-Glazed Yams with Pecan topping! Yummmmy! So what are your plans for the special holiday tomorrow?
Maple-Glazed Yams with Pecan Topping
Ingredients:
3 lbs of yams (red skinned sweet potatoes), peeled, cut into 1/4 inch rounds, 1/2 cup maple syrup, Salt, 1 teaspoon orange zest (optional), 6 tbsp chilled butter, cut into 1/2 inch pieces, 1/3 cup brown sugar, packed, 1 1/2 cups pecans
Method:
1. Preheat the oven to 400°F. Heat a large pot of salted water (add a tablespoon of salt for every two quarts of water) until boiling. Add the yam rounds. Cook the yams until the water starts to simmer again, about 4 minutes. Remove from heat, drain, then rinse in cold water.
2. Butter a baking dish. Arrange the yam rounds in the baking dish, overlapping the pieces, layering the yam rounds to fill up the dish. Sprinkle each layer liberally with salt. Sprinkle the yam rounds with orange zest if using. Pour maple syrup over yams. Dot with 2 Tbsp of the butter. Cover with aluminum foil and bake until yams are almost tender, about 20 minutes.
3. Put 3/4 cup pecans in a blender or spice grinder and grind into a coarse meal. Coarsely chop the other 3/4 cup of pecans.
4. Mix the ground pecans and brown sugar together in a medium bowl. Using your fingers, mix in the remaining 4 Tbsp of butter until the mixture resembles a coarse meal. Mix in the chopped pecans.
5. Sprinkle the pecan mixture over the yams. Bake the yams, uncovered, until the topping browns, about 15 minutes.
Serves 6-8 as a side dish.
Would you like to read more about the winter in Lake Arrowhead? Please visit Nancy's new blog site by clicking here.