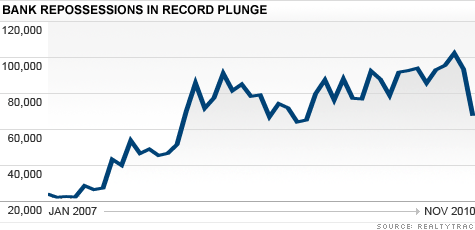 Robo-signing fiasco skews most recent foreclosure numbers. RealtyTrac is reporting their largest ever month-over-month decline in foreclosures at 21%. Year-over-year numbers were similarly drastic as there was a 14% fall compared to Nov '09.
"[That] forced lenders and servicers to hit the pause button on many foreclosures while they scrambled to revamp their internal procedures and revise or resubmit questionable paperwork," says RealtyTrac CEO James Saccacio.
Rick Sharga, spokesman for RealtyTrac, says "I wish the report was actually good news," he said. "But it's just an artificial drop. For most borrowers in foreclosure, it will be a temporary reprieve."
Judicial states, where there is an actual judge ruling on the foreclosure cases, saw a much larger drop as compared to non-judicial states with declines of 34% and 7% respectively. It is surmised that December's numbers will mimic this decline as there is a standard practice among servicers not to foreclose during the Holiday season in addition to this debacle.