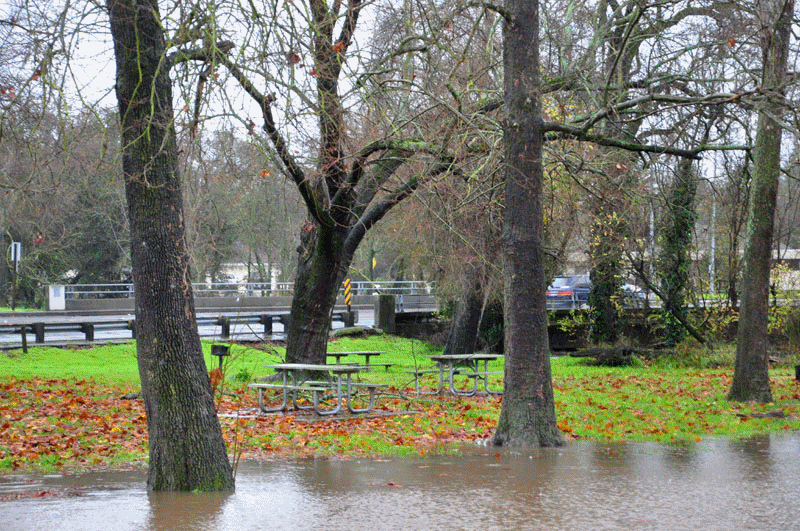 (Slide Show has 11 images)
Continuing rains over the last several days have created areas of minor flooding in the Greater Sacramento area. After hearing a report from Sacramento's KCRA Channel 3 this morning, I decided to venture over to Del Paso Park, a favorite picnic spot, when I was a kid. Arcade Creek flows through the area, and the Channel 3 news crew, Leticia Ordaz and the trusty KCRA camera guy, were covering the flooding of the picnic area.

Before this last series of storms arrived via the Pineapple Express, water managers at Folsom Dam released significant amounts of water from the lake, and also downstream at Nimbus Dam. While there is some evidence of flooding on roads, and in some areas, the creeks and watershed from the mountains into our valley appears to be currently performing well.

There are only so many pictures which can be taken of an event like this. So, the KCRA Channel 3 camera guy, and I got into a fun camera shoot out. However, I was outgunned. Leticia Ordaz performed a little impromptu interview of me, since there wasn't anyone else to talk to:-) It may or may not show up later on KCRA news.

The beginning pictures in the slide show above, are photos of the Del Paso Park picnic area and the little bridge nearby. There are a couple shots of the KCRA camera guy. Leticia had already ran for warm cover in the Channel 3 van.

Later slide show photos are of the bike bridge over the American River near Sunrise Boulevard. In spite of the rain and storms, a few hearty souls ventured out to do a little jogging.

You can access video shot by KCRA Channel 3 prior to my arriving on the scene this morning via: "Winter Storm Floods Del Paso Park Picnic Area."

I hope everyone is enjoying this coming holiday week! Shoppers were on the roadway this morning, and weren't allowing storms to curtail their activity.