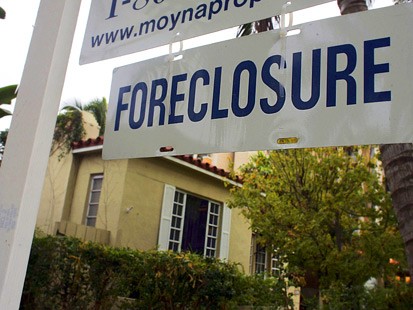 After a record year of 1 million homes foreclosed on in 2010, the outlook for this year is proving that 1 million may be dwarfed in comparison. There are nearly 5 million mortgage holders that are at least 2 months behind on their payments. The good news behind these numbers, according to RealtyTrac, is that this year is finally expected to be the peak of the crisis.
1 in 45 households received a foreclosure filing last year. That's a record 2.9MM homes. And while the last two months of 2010 slowed down a bit due to the whole "robo-signing" fiasco, the first quarter of this year is expected to have the greatest amount of activity.
With unemployment remaining stubbornly high, credit markets staying with stringent underwriting regulations, and another 5% drop expected in home values expected this year, it's the perfect storm for another year of distressed sales taking a big part of the market.
While the usual suspects (Arizona, Nevada, California, Florida, Michigan) led the charge with nearly half of the country's foreclosures, a few (AZ, FL, CA) actually posted year-over-year decreases.
So, what are you going to do about it?
We've all seen articles like this for a while now. The question you should be asking yourself as a real estate professional how are you/have you changed with the market. Is this the year you finally start making contacts with asset managers? Will you take an updated short sale class at you local board? Will you hold a foreclosure seminar for your area? Are you going to market to homeowners in distress? Will you finally get your metrics dialed in?
I've been in the business since 2003, focused on short sales since 2007, and I'm planning on 2011 BEING THE BEST YEAR I'VE HAD IN REAL ESTATE!!
There is no doubt about it in my mind. It's a foregone conclusion even though we're barely 2 weeks into the new year. And it feels good. I plan on helping at least 50 families this year avoid foreclosure.
What's your plan? How have you/will you change with the market?
NOW GO SELL A HOUSE!!!...after you leave me a comment ;)