Are You in the Driver's Seat, or Are You the Crash Test Dummy?
I know there are some home sellers that have had it up to here with their listing agents suggesting, nudging, hinting at them to drop their listing price when their home is such a great home! Some have even begun to resent the visits or phone calls from their agent after several months of no activity. In some cases, I don't blame you! But in others...well...hear me out.
Most home sellers, with the help of a great and informed Realtor, will take the driver's seat in this market by presenting and pricing their home in a way that will draw many buyers to it. These same saavy buyers when presented with a great home priced competitively, will oftentimes find themselves competing against one another in a multiple offer situation, thus submitting their highest and best offer (usually over asking price), while also attempting to make themselves more attractive to sellers by asking for fewer seller concessions (adding to the seller's bottom line). In many cases, the buyers are then placed at the mercy of the home seller. In control is the position every home seller and their agent wants to be in!
But there are some occasions when a seller will disregard "road conditions" (recently sold and pending comps for similar homes in the area detailed to them by a Realtor) by insisting on over-pricing and marking up their home, only to find themselves months later, spiraling downhill, out-of-control, finally hitting that brick wall as their "days on market" numbers climb higher and higher. These same type of listings usually become the examples used by local agents to potential home sellers of what costly mistake not to make when pricing their home. Also, have you noticed that the longer the days on market, the more number of "Seller to pay for..." boxes are checked in the offer packages that are finally submitted, if any? Where is the control in that? The seller is now at the mercy of a soon-to-be demanding buyer.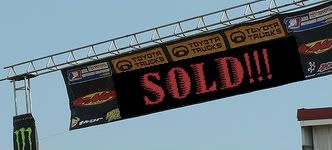 Home seller, there are many twists and turns on the road to home selling; please allow an experienced Realtor professional to help you navigate it with correct home pricing, presentation and sharp mid-escrow negotiations, in order to get you to the finish line ahead of the competition with fewer road blocks. The final desired outcome is you crossing the "SOLD" finish line and collecting the highest monetary reward.
If you are looking for someone to take the wheel or to help you navigate the sometimes treacherous roads of the home selling or buying process, do not hesitate to call Andi Grant at 310-508-4354. We'll discuss where you are at, where you want to go and the fastest and less costly way of getting you there.
___
Race Car Driver, Crash Test Dummies and Finish Line Photos courtesy of Creative Commons

This work is licensed under a Creative Commons Attribution-NonCommercial-NoDerivs 2.0 Generic License.