So I was out on an appointment with an exceptional Realty Executives of Southern Arizona agent, and when I got back to my office I found one of those little yellow stickies saying "Call Christy at the newspaper".
So I spent the next twenty minutes explaining:
What affects mortgage rates
What just watching the stock market can tell you about the future of mortgage rates
Why the Fed movement does not set mortgage rates
What to expect in the near future for mortgage rates
I was quoted in the Arizona Daily Star today regarding the interest rate cut by the Feds, click here for the story.
HOW DOES THE FED MOVEMENT AFFECT RATES:
Take a look at this chart. It shows a period in January of 2001 when the Feds began a series of rate cuts that the 30 year mortgage was at 7%. After those DEEP rate cuts, through May of 2002, the 30 year fixed rate mortgage was still at 7%.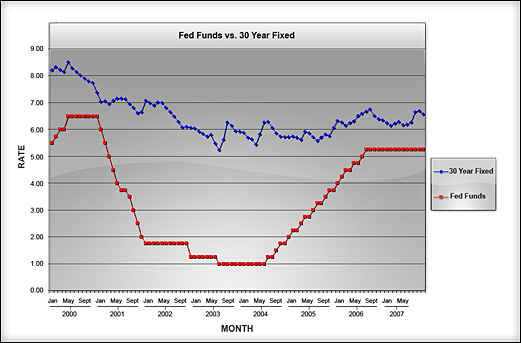 Today I had a meeting with a prominent financial planner here in Tucson. On the way to my meeting I hear a radio advertisement stating this:
"Hi this is _________ owner of _________ ______ Funding. Now is a great time to refinance because the Federal Reserve just dropped mortgage rates 1/2 a percent. That's right the Fed's lowered mortgage interest rates 1/2 percent."
As the owner of a successful mortgage brokerage, I was shocked at the misleading message from a seasoned pro.
If anybody out there would like me to post how mortgage rates are determined, just leave a comment and if there is any interest (LOL) I will go into detail in a later blog.
I like to get as much knowledge as I can to our Realtor community, so I have a special offer for you...
If you are a REALTOR in TUCSON ARIZONA and would like a FREE audio CD copy of Success Strategies For Today's Market: An Interview with David Jenks, co-author of the best seller The Millionaire Real Estate Agents email me at PDmtg@comcast.net.
I have paid quite a bit to procure the license to distribute a limited amount to Tucson Area Realtors, and it is yours for FREE...on one condition; you agree to meet with me, one of the top Loan Originators in Tucson for a cup of coffee. If you aren't in Tucson, I still want to see your success, so shoot me off an email and I still may be able to get one to you.