When applying for a home loan, one item that will be requested is a copy of your one or two most recent bank statements. Ever wonder what the underwriter (person who says yes or no on your loan) looks for on your bank statement? First they will make sure it's the actual bank statement. Not an Internet print out. The statement should have your name, account number and the bank logo on it. Also if there are four pages to your statement, you will need to provide all four pages, even if page 4 is blank.
Once the underwriters is comfortable it's the actual statement, they will look at the ending balances from the previous statement and compare it to the new ending balance. Is there a large difference between the balances? If so, be prepared to document and explain any large deposits.
A good idea is to scan through all the deposits and see if they can be explained by the notations. Like a payroll deposit, or social security deposit etc. In this example, you will see a deposit of $1,250.00 on 4/15 which is a direct deposit. By providing a copy of your recent paycheck stub to match the deposit will provide proof of it's origin. If you see a transfer in from another account, be prepared to provide that statement as well. If you see any deposit that's not explained, be prepared to verify and document the source.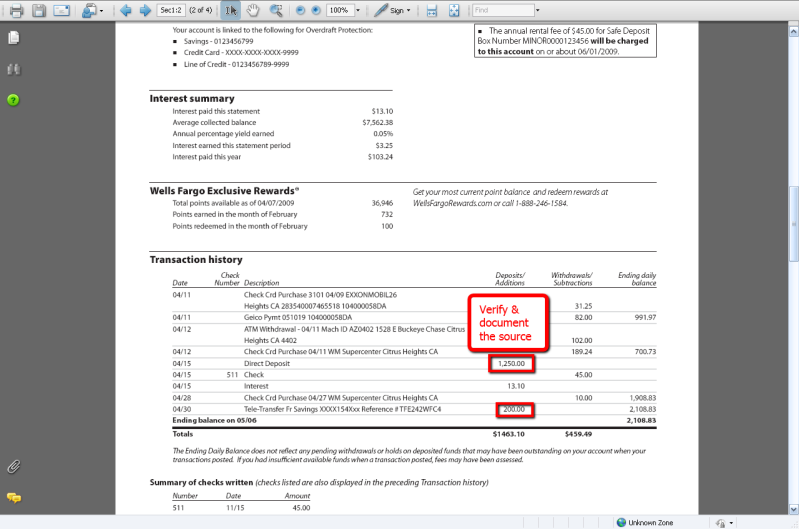 If you are planning to purchase a home in Tacoma, WA in 2011, we can help with your mortgage pre-approval. Visit us online at http://www.alltechmortgage.com