Newbies to South Carolina weather may be surprised to learn that February is the start of our "Spring." When my son was born, it was a glorious spring day...in this traditionally "winter" month! We didn't even wear coats home, although we had our new bundle of joy wrapped from head to toe in what had to be the hottest winter fleece suit ever made for a baby.
Case in point: we built a shed in our backyard last weekend. While wearing t-shirts. And no coats. Eat your heart out, winter lovers! When you get sick of the snow, I'll always be around to relocate you to sunny South Carolina: home of 300 days of sunshine each year! (Check it. I looked it up.) While you will most nearly smother to death from the humidity during August, the rest of the year is really quite nice!
And here are some fun things to do around Columbia during February. I am also including one super fun even in Charleston, just a short 100 miles or so away, because it is so big that it bears mentioning for the entire state: the Southeastern Wildlife Expo! Lots of fun for outdoor enthusiasts, animal lovers, and everyone in between.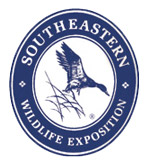 Southeastern Wildlife Exposition -- Charleston – February 18-20, 2011-- There is no better way to beat the winter blues than to participate in a three-day celebration of nature. The Southeastern Wildlife Exposition ("SEWE") is the largest event of its kind in the country. Over 500 exhibitors will help promote conservation and preservation of wildlife through education and the visual arts.
Feb 5: Junior League of Columbia's Clean Sweep - Columbia -- Yard sale benefiting community projects - cash only
Feb 12: Jazzin' for Education Cultural Youth Summit and Gala - Columbia - benefits BCNAA's Endowed Scholarship Fund
Feb 14: Valentine's Day - Monday
Feb 18-20: Southeastern Wildlife Exposition - Charleston - art, exhibits, presentations, lectures - various sites
Feb 21: Presidents' Day / Washington's Birthday - State and federal holiday - Monday
Feb 26: Lexington's Race Against Hunger - 10K run, 5K walk, 1 mile fun run - benefiting five local charities
Feb 26: Midlands Job Fair - Columbia - come prepared with proper dress and resumes to speak with employers, plus workshops
A big thanks, as always, for SCIWAY for bringing together so many dates into one place, SCIWAY News February 2011, www.SCIWAY.com.
Got more events? Send them to Nicole at donaghy.nicole@gmail.com. I would love to add your local event to my page!