So... today, 3 March 2011, the Insurance, Housing and Community Opportunity Subcommittee heard from Spencer Bachus, U.S. Congressman, AL-06 (Twitter Feed @BachusAL06), Judy Biggert, Congresswoman Illinois's 13th district and Subcommittee Chairman (Twitter Feed @JudyBiggert), Mercedes Marquez, assistant secretary of community planning and development for HUD, Neil Barofsky, special inspector general for the Troubled Asset Relief Program (TARP), David Stevens, commissioner of the Federal Housing Administration. Not one of these "Wizards Of Recovery" addressed the real problem with the revitalization of the real estate market.
Do you folks not get it! What the heck are you smoking up there on Capital Hill? Cause is must be some really good stuff!!!
HAMP, HARP, HAFA and all forms of the Making Home Affordable plans are a joke. They only prolong the fact that, in the end, the folks who take advantage of these "so called disaster relief" plans will be no better off than if they had simply let their homes foreclose early on.
Congress knows all too well that over ¼ of the nations mortgages are underwater, perhaps way more than that. Congress knows all too well that, if implemented, the provisions of the Dodd-Frank bill that will require borrowers to maintain a 75% loan to-value ratio for refinances, and a 70% loan-to-value for cash-out refinances in which the borrower refinances into a larger loan, will eliminate over 80% of all homeowners in Arizona, California, Florida, Nevada and Michigan from being able to take advantage of those types of opportunities because those mortgages are already 40% to 75% or more, upside down. The February 22nd 2011 Cash/Schiller report S&P Indices report showed that show that 19 of the 20 MSAs and both the 10-City and 20-City Composite were down in December versus November and all have displayed this negative trend for three consecutive months.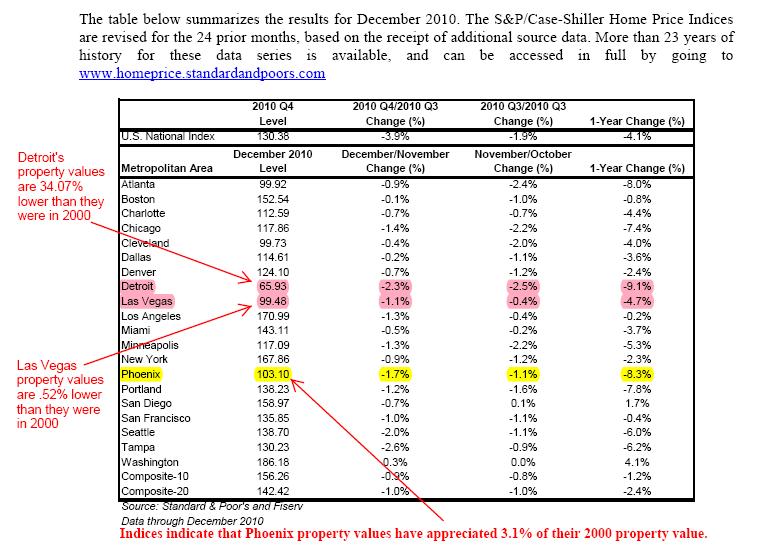 The problem is... that not one of the loan modification programs has addressed the real and direct problem and that is NEGATIVE EQUITY. Until congress puts pressure on the banks to "belly up to the bar" and bear the weight and responsibility of fixing this problem, a problem that they were primarily complicit in creating... homeowners, who do keep up on their mortgages, will never be able to sell their homes for the outstanding balances owed. That means that a major portion of the overall homeowner population in the entire country will not be able to buy a home again, for many years, decades in many instances.
GET THIS FIXED FOLKS!! GET IT FIXED!! MAKE THE BANKS FIX THE MESS THEY CREATED!! MAKE THE BANKS PAY FOR DIGGING THEMSELVES OUT OF THIS MESS AND NOT AT THE EXPENSE OF HIGHER RATES TO CONSUMERS!!
Banks are posting record profits. Make them spend some, or ALL, of their soiled earnings to fix this disaster!
Nuff said... I got'a take a break before I melt my keyboard.
More when I have calmed down...
G-II Varrato II is a Real Estate Professional with Coldwell Banker Residential Brokerage with over ¼ of a century of real estate experience. He and his wife Lori are mentors for new agents entering the real estate business in the Phoenix Metro Area of Arizona. For the past decade, they have been ranked among the top 3% of all REALTORS® in Arizona in the Coldwell Banker Residential Brokerage Family and are ranked as the Number 1 Short Sale Agents in Arizona for Coldwell Banker Residential Brokerage. http://ShortSale.AirForceHomeSeller.info