On Monday, I told you how important it was to pass on inspiration to others. Today I'm keeping that promise. Last time my inspiration was found simply by passing a church sign driving down the street. This time I have found inspiration in a simple cup of tea. Sound odd? It is a slightly special cup of tea.
Yogi tea is like a fortune cookie-- each tea bag comes with an inspirational message. Sometime they are slightly cheesy, some odd, and every once in a while you get the perfect message on the perfect day. That day was today.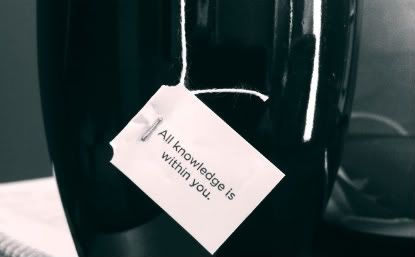 "All knowledge is within you."
What great inspiration! Ever feel self-doubt creeping in? Ever start to worry you won't be able to keep up with the changes in Web 2.0, social media, blogging, etc? Complicated business decisions, ethical dilemmas, family crises, the list goes on and on of difficult choices we must make everyday.
If you let self-doubt creep in, you won't be able to make the best decision possible. So next time you start to doubt yourself or next time a difficult decision presents itself, take a deep breath and remind yourself, "All knowledge is within you".