Take yourself to a place where the landscape is lush, where bright vibrant color punches through the greenery, where a spirited people embrace a slower pace.  Think spicy, think savory, think texture, think MUSIC.  Where are you?......
The Caribbean, of course.
The Caribbean is coming to your own backyard at Mulberry Creek Herb Farm this year.
Mulberry Creek Herb Farm has the distinction of being the only 100% Certified Organic Herb Farm in the State of Ohio.  They are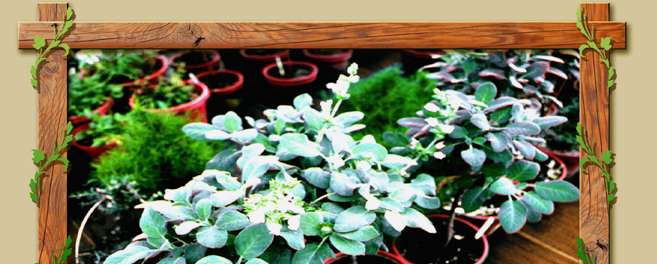 in their 16th season of providing quality, well rooted, certified organic herbs and miniature perennials for Cooking, Ornamental, Medicinal and Crafting uses. 
The Caribbean will come to life through the hard work and ingenuity of Karen and Mark Langan and crew.  They will transform the farm into a Tropical Delight for the senses and FOR SALE!!  There is much to satisfy, from the littlest children to the Golden Agers.
When you come, plan to stay a while.  There is a complete Faery  Land set up next to the barn and a special Railroad Garden for the train enthusiasts.  They have entire collections of Terrarium, Magical Herb Companion , and Butterfly plants.  Perhaps you will choose to come for one of the FREE Saturday Classes discussing topics such as Container Herb Gardening or Caribbean Cooking.  Or just maybe you'll come to participate in the First Annual Faery Fest on April 2.  In any case, bring a lunch to enjoy under the Pavilion.
Each summer, Mulberry Creek hosts it's Annual Herb Fair.  It is usually held the weekend after Father's Day in late June.  This year's dates are June 25 and 26.  Vendors of the fair are required to focus on herbs, gardening, cooking or the Caribbean theme for the majority of their product line.  You will find a large array of quality hand made and unique items to choose from and just maybe get a little Christmas shopping done too.
There will be FREE Herb and Caribbean workshops both days on things like Jamaican Jerk or Tropical Herbs for Healing or Caribbean Coffee. 
Of course, they will have LIVE Caribbean music (I can faintly hear the steel drums), and other Entertainment.
The annual plant and herb sale allows you to browse the large selection of herbs, plants and miniatures for your own back yard and garden.  A Don't Miss is their collection of beautiful Bonsai plantings. 
Last, but not least is the food.   OH the FOOD…..It is always over the top delicious with something for everyone, and of course will have a wonderful Caribbean flare.
Finally, there is a newsletter, "A Year in the Life of an Herbalist" that Karen is putting together that will discuss gardening, herb use, recipes, classes and event.  Just put "A Year in the Life of an Herbalist" in the subject line of an email sent to:  mulberrycreek@yahoo.com.
Check out their website at www.mulberrycreek.com for complete information on the events and classes and their informative
 Catalog.
So,  as long as it's going to be HOT this summer, you might as well enjoy a little Caribbean in your life at Mulberry Creek Herb Farm. 
Put it on the List.  Do it today.