Not too long ago I wrote a post about finding inspiration in The Little Engine That Could. In case you haven't read this children's book (go out and get it!) it's about overcoming any obstacle with postive thinking, persistence, and a can-do spirit! Many of you shared in the comments that you read this as a child or to your children and were inspired by this book also. Well, we're not alone!
Seems like Century 21 was also inspired by The Little Engine That Could and it made it into their new ads.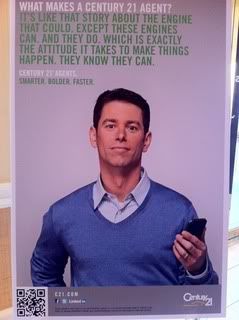 "What Makes A Century 21 Agent? It's Like That Story About The Engine That Could. Except These Engines Can. And They Do. Which Is Exactly The Attitude It Takes To Make Things Happen. They Know They Can."
I was honored to attend the Century 21 Convention in Las Vegas this past week (more to come on everything I learned!) and was pleasantly suprised when I saw this newly released ad! Very clever and creative!
What do you think?