There have been several times over the years that I have had experiences out of the normal. I warn my clients that I occasionally write a blog post or two and if they don't behave I will 'write' about them.
That warning is usually enough to get the situation back under control.
Several months ago I showed a place that had an open gun safe in the basement. The gun room was about 12 x 12 with 8 inch cement walls and ceiling. The Safe door was straight out of the movies- huge and nothing to play with.
At the time, we all commented that this looked like trouble waiting to happen. The buyer even stated that it would be removed and a more normal door installed.
Fast forward to last night.... here's where the story gets fun.
We met at the vacant home to sign final papers to put it Under Contract. The buyer brought the boys (both well over the age of 12) one was 16 the other 23. I think you know where this is going.....
While we were upstairs going over the contract, one of the idiots boys playfully (yeah right) locked the other in the safe room.
I called the listing agent to see if there was a record of the combo. He called the county sheriff to come check on us. We all decided that the kid was in less danger locked in the room then he would be freed -lol
There is a handle on the inside of the door that can be used to open it. That is unless the outside handle has been turned and the lock engaged! Guess what? LOCKED up TIGHT!
We found the original owner and he came to help, the people he sold it too had changed the locks and were now out of state.
I asked the officers if we could just dynamite a hole in the wall and they said "NO"
(One did show me his tazer but that is a different story)
I can't add 'Safe Cracking" to my skill set but I can add 'aiding and abating". The only way to get in was to take the door off. Seriously, the men pry-ed it from the outside enough to snap the re-bar bolts. The the kid did something from inside and they moved the 2,500 lb door enough for him to exit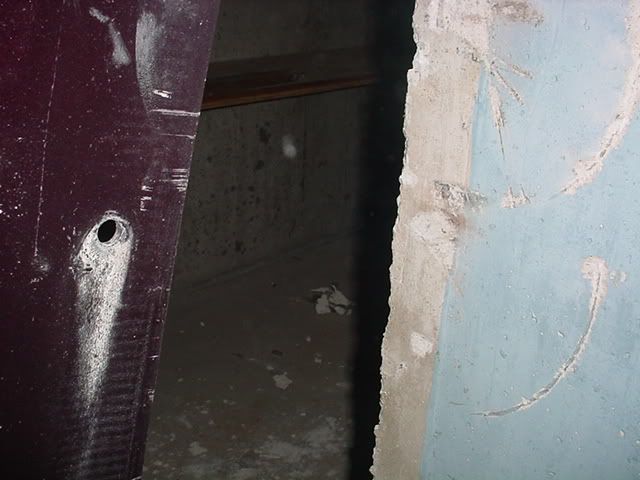 As a good agent I did ask the crowd if anyone was looking to buy or sell in Barry County. I may have found a way to procure buyers. I did get to hand out my card- that will be a future post.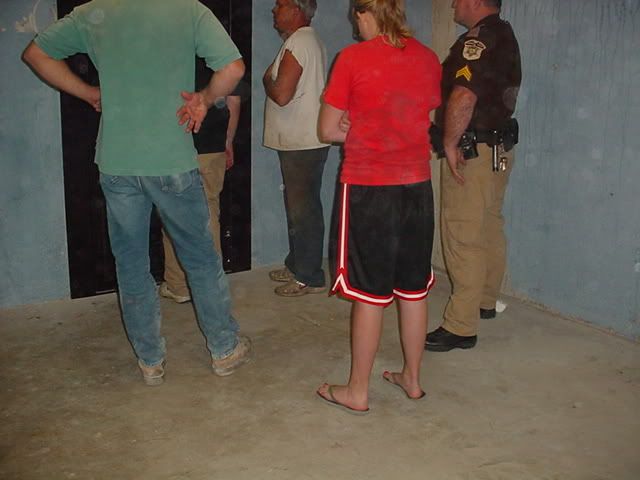 Happy Ending,
Buyers have finished signing the contract- They won't need to hire someone to come take out the safe door.
I get to say I told you SO! After all if you break it- you buy it! In this case they are thrilled to be buying it.