Sunday Morning on CBS is one of my favorite programs. They always have a series
of interesting stories from around the US, people to see and places to go!
I hope to pass on a little of the same........
NEW HAMPSHIRE SUNDAY MORNING
~~~~~~~~~~~~~~~~~~~~~~~~~~~~~~~
Exploring this wonderful State of New Hampshire is something my husband and I never tire of! There are so many diverse attractions and ever-changing landscapes...the possibilities are endless!
A few years ago- right around this time of year- we decided to take a road trip to The Great North Woods. I had wanted to go to Moose Alley for ages....I wanted to see a Moose!!
We headed North on 93, picked up Route 3 in Francona and headed to Pittsburg, NH. Pittsburgh was named in honor of William Pitt the Prime Minister of England. It includes Lake Francis and the 3 Connecticut Lakes. Pittsburgh encompasses a large portion of the North Country and is mostly Paper Company owned, forested land.
Pittsburgh has a population of 859 people!
After a very long drive we arrived at The Partridge Cabins on the 1st Connecticut Lake. We rented a rustic Cabin with a great view!
. Since we were staying for a few days we decided to Moose Hunt (pictures only) the first day and "go fishin" the next!
The next morning we were directed to an area that Moose were known to frequent-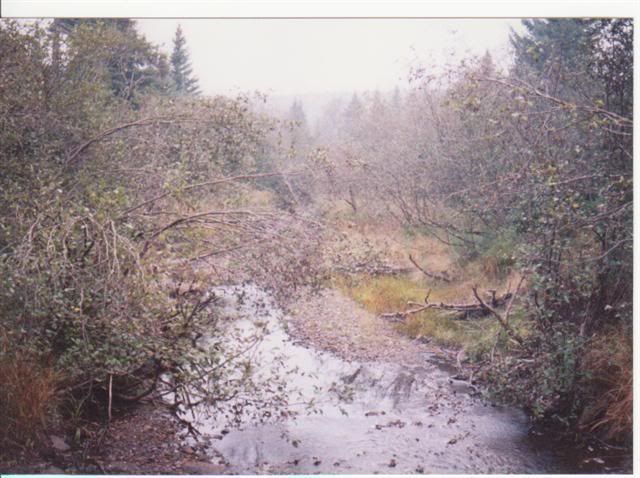 we drove all through the many logging trails and were very excited by what we found
A definite sign that moose have been here!
Well.... to make a long story short...we never saw a Moose and spent the entire day looking. Needless to say we were very disappointed!
That evening (knowing that many animals come out after dark) we decided to look one more time! We took flashlights and shined them out the car window (I know, I know...but we weren't going to shoot them!!) and this
is what we finally saw
The next morning the poles were awaiting! The owners had supplied a boat with a motor for our enjoyment...it was part of the deal! We didn't even need to get fishing licences.
It was a peaceful, tranquil morning and we were hoping the fish were biting!
But the first Connecticut Lake is a very large unpredictable body of water!
We traveled fairly close to shore as we fished (with no luck!) But as the day progressed the wind picked up and the water grew rougher.....
It's amazing how quickly things can change.
My husband went to start the motor to head home....the motor wouldn't start. We were being blown towards the rocks at the far shore of the lake! I was rowing frantically trying to stay away from shore as my husband kept trying to start the motor!
Suddenly we heard shouts....we looked and spotted another small boat headed in our direction. There were two guys from Massachusetts who were out fishing. They generously offered us a tow....... We didn't say no!
A weekend outing that was supposed to be a Moose Hunt...turned into quite an Adventure!
I would love to go back to Pittsburg. It is just South of the Canadian Border! Actually we went over the Border the next day to have Breakfast. There were just a few (less than probing) questions, over and back....times have certainly changed!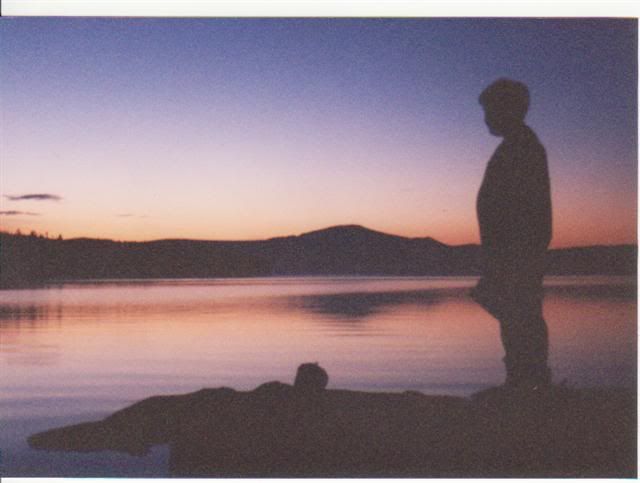 If you have a yen to see the wilder side of our State....take a trip to Pittsburgh. There is Gorgeous Scenery, Pristine Lakes, there really are Moose....
And Beautiful Sunsets!
~~~~~~~~~~~~~~~~~~~~~~~~~~~~~~~
Come travel the roads of New Hampshire . There are wonderful examples of our history around every corner!
Concord NH Realtor Area Information