Orange County Easter Egg Hunts
Below is a list of many different Orange County Easter Egg Hunts listed by city.
Aliso Viejo
Community Spring Celebration & Pancake Breakfast April 16, 2011 9 am - 11:30 am Egg Hunts, Visit with Peter Rabbit, Face Painting, Bounce Houses, DJ Entertainment, Arts & Crafts
Pancake breakfast 9-11.
LOCATION: Grand Park at Aliso Viejo Town Center
INFORMATION: 949-243-7750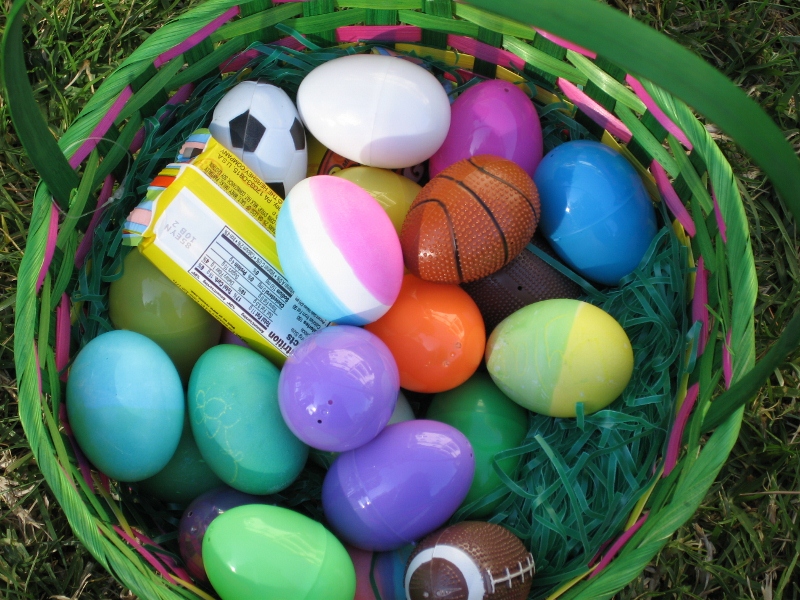 Anaheim
Farmers' Market & Craft Fair- Karaoke! Easter Celebration Thu, April 21, 2011 12pm – 7pm Easter/Spring activities for children. Karaoke, Food Booths, entertainment, and Crafts.
LOCATION: Downtown Anaheim, Center Street Promenade & Lemon
INFORMATION: 714-956-3586
Costa Mesa
Easter Eggstravaganza Paw Pawty
April 23, 2011 2:00 pm – Tewinkle Park There will be over 200 Easter Eggs filled with Doggy Treats and hidden around the Lake at Tewinkle Park in Costa Mesa. In one of the Easter Eggs there will be a Special PAW PRIZE! $5 donation suggested. See
http://www.desperatepawsofocdogclub.org/events/16040117/?eventId=16040117&action=detail
for more details.
4th annual Costa Mesa Community Run
2K fun run and a 5K run through Fairview Park, beginning and ending with a lap at Estancia High School and through Fairview Park.
Race Day Schedule
6:30 am - Registration
7 am - Community fair and pancake breakfast begins
7:30 am - Warm-up
8 am - 5K starts
9 am - 2K fun run starts / award ceremony
10 am - Nature walk
This event, supports the Costa Mesa public schools and begins at 5 p.m. Friday, April 22, with an expo and live music provide by blues band Blue Daddy, food for $1, rides and an Easter egg hunt.
5th Annual - Costa Mesa Easter Treasure Hunt
Costa Mesa Orange County Market Place Easter Festival & Treasure Hunt April 23, 2011 9:30 a.m. - 2:30 p.m.
Location: 88 Fair Dr., Costa, Mesa, CA
www.
ocmarketplace.com The Costa Mesa Annual Easter Festival includes treasure hunt, the Easter Bunny and a free gift. Be sure to bring your own basket. If you find the ubiquitous gold egg, you'll win a special prize! There is a free gift to first 500 kids in line for treasure hunt.
FREE:
Treasure Easter Egg Hunt 10 am - 2 pm Meet Easter Bunny 10 am - 2 pm You can use your own camera for photos Face Painting 9:30 am - 2:30 pm Puppet Shows 10:30 am, Noon & 2 pm Cost: $2 adult admission, free 12 and under. Address: Orange County Fairgrounds, MarketPlace & Event Center, 88 Fair Drive, Costa Mesa, CA. Tel: (949) 723-6660. www.ocmarketplace.com
Cypress
Spring Egg Hunt And Flash Light Egg Hunt Saturday, April 23, 2011 Spring Egg Hunt For ages 11 and under 10:30 am Crafts, activities, food, egg hunt with toy and candy filled eggs, visit with the Easter Bunny
LOCATION: Oak Knoll Park, 5700 Orange Avenue
INFORMATION: City of Cypress - (714) 229-6780
Teen Flashlight Egg Hunt For ages 13-18 8:00 pm Bring a flashlight and basket for an egg hunt at night
LOCATION: Arnold/Cypress Park 8611 Watson Street (meet at Cypress Park bldg)
INFORMATION: City of Cypress - (714) 229-6780
Fountain Valley
Annual Easter Egg Hunt , April 23, 2011 8:30am - 11:30am Carnival Games, Entertainment, Bounce Houses, Obstacle Course, Crafts, Face Painting, and more! Pancake breakfast provided by the Fountain Valley Kiwanis Club, only $5 per person. Get your picture taken with the Easter Bunny ($2) or enter the Decorated Basket Contest.
LOCATION: Fountain Valley Recreation Center & Sports Park , 16400 Brookhurst Street
INFORMATION: 714-839-8611
Fullerton
Holiday Open House and Monster Egg Hunt 2011 information TBA
LOCATION: Muckenthaler Cultural Center, 1201 West Malvern Avenue, Fullerton
INFORMATION: 866-411-1212
Huntington Beach
Annual Easter Hunt April 23, 2011 , 9:30 am - noon Easter hunt, game booths, entertainment, exhibits, refreshments and a visit from the Easter Bunny. Easter Bunny photos, snacks and refreshments will be available for purchase.
LOCATION: Huntington Beach Central Park
INFORMATION: 714-536-5486
Ladera
Spring Celebration , Saturday, April 16, 2011, 11 am - 2 pm Egg Scrambles by age group, face painters, photos with Mr. and Mrs. Peter Rabbit, Bubblemania, food and beverages for salePre-sale wristbands go on sale April 1.
LOCATION: Founders Park, Ladera Ranch
Laguna Niguel
Bunny Blast , Saturday, April 23, 2011 , 9 am - 12:30 pm Crafts, Face painting, Games, Bounce house, Petting zoo and a Spring show. Pony Rides, and Visits with the Easter Bunny also. Food available for purchase. NO EGG HUNT AT THIS EVENT Cost is $7 for children (ages 3-12) and $1 for adults (13 and older). Pay admission at the event.
LOCATION: Chapparosa Park, 25191 Chapparosa Park Road
INFORMATION: 949-362-4351 ext. 1.
La
ke Forest
Bunny Blast April 16, 2011 11:00 AM - 3:00 PM Enjoy a fun-filled event for the whole family with a day of activities including game booths, crafts, face painting, a balloon artist, and an egg scramble.
LOCATION: El Toro Park,23701 Los Alisos Blvd
INFORMATION: 949-461-3450
Spring Skate Egg Hunt at the Park Saturday, April 23, 2011 11:00 AM - 1:00 PM It's springtime and time for the Skatepark to host its annual holiday egg hunt! Come and visit the Skateboarding Bunny, play in the jump houses, and participate in fun crafts.
LOCATION: Etnies Skatepark of Lake Forest
INFORMATION: 949-461-3450
Los Alamitos
Spring Carnival Saturday, April 16, 2011 9am to 11am Egg hunt, family style carnival games, face painting, bounce house and more. Free event.
LOCATION: Laurel Park (corner of Bloomfield and Katella)
INFORMATION: (562) 430-1073
Newport Beach
Newport Beach Easter Egg Hunt
Please see the Newport Beach Easter Egg hunt and other Easter activities below:
EASTER BUNNY PHOTOS April 06 – April 23, 2011
Children are invited to have their picture taken with the Easter Bunny in the spring garden.
LOCATION: Fashion Island
INFORMATION: 949-721-2000
Newport Dunes – Easter Egg Hunt
Friday April 22, 2011 – Egg decorating, basket decorating and other crafts.
Saturday, April 23, 2011 – Easter egg hunt – 9am
Pancake Breakfast – 9am to 11am
Pelican Hill Resort – Easter Egg Hunt
Traditional brunch will be served on Sunday, April 24, 2011 in Mar Vista's Grand Ballroom after an Easter egg hunt on the Rotunda Lawn which will enjoy panoramic ocean views.
Eastbluff Easter Egg Hunt and Barbeque
The Bluffs Easter egg hunt will be held April 16, 2011 from 11:30 am to 3:00 pm at the Reflection Pond greenbelt area. At the celebration, you will enjoy meeting the Easter bunny, face painting and tattoos, egg decorating, egg toss and a sack race. Be sure to bring a side dish.
Orange
Irvine Park Railroad Easter Eggstravaganza Open April 2nd - April 23rd Easter egg hunts begin daily at 9:00 AM and tickets may be purchased to participate in an egg hunt at a specific time. Children can also meet and have their picture taken with the Easter bunny (visit web site for cost). Other activities include hay rides, Easter cookie decorating, face painting (weekends only), carnival games and a lot more.
LOCATION: 1 Irvine Park Road Orange, CA 92869
INFORMATION: 714-997-3968
San Clemente
Easter Eggstravaganza Saturday, April 23, 2011 7:30am-11am It's the great big FREE event that you have been waiting for and you don't want to miss! Oddly shaped activities, enormous entertainers and one great BIG egg hunt at 9am! Visit with the huggable bunny, wander through the Path of Random Facts, play games and enjoy the day A
LOCATION: San Gorgonio Park 2916 Via San Gorgonio, San Clemente
INFORMATION: 949-361-8264
Community Easter Brunch, Saturday, April 23, 2011 10:00am Sponsored by the Family Assistance Ministries, in partnership with the City of San Clemente. The brunch is open to needy individuals and families. If you would like to volunteer for the event or would like to donate food, filled Easter Baskets and filled plastic eggs please call 492-8477.
LOCATION: Ole Hanson Beach Club, 105 W. Ave Pico
INFORMATION: 949-361-8264
Trabuco Canyon
Wagon Wheel Canyon Association's Spring Event Saturday, April 16, 2011 10 am - 2 pm The egg hunt starts at noon Bring the entire family to our renovated park and playground for egg hunts, games, lot's of prizes, (Selma's Chicago Pizza and soda available for a fee), (Farrell's Ice Cream Parlour -Ice cream Sundays for a small fee), (Smokey's Fire Trucks rides for a small fee), music, train rides, face painting, bounce house, Uncle Jax Party Trax race track, and other activities.
LOCATION: Oso Pkwy & Altura, Trabuco Canyon, CA
Tustin
Easter Egg Hunt , Saturday, April 23, 2011 , 8:30 AM - 11:30 AM The Hunt starts at 9:00 AM sharp! FREE candy and candy filled eggs, Petting Zoo & Pony Rides, Bouncers & Games, Pictures with the Easter bunny, Community Entertainment for all and pancake breakfast from 7:30 - 11:30.
LOCATION: Tustin Sports Park , Jamboree & Robinson
INFORMATION: 714-573-3326
If you know of additional Orange County Easter egg hunts, please feel free to add them in the comments below. Also, please let us know which Orange County Easter egg hunts and Easter activity you like best. If you would like to buy or sell a home in Orange County, please give Christine Donovan at call at 714-319-9751. Originally posted at
Orange County Easter egg hunts