Let's be honest; to say the past 6 months (or more) as a listing agent in the Oklahoma City metro has been sketchy and unpredictable would be grossly understating reality. In turn, this means that
being a home seller in Central Oklahoma has been, well, sketchy and unpredictable
.
The numbers (the statistics) don't lie. We've seen the number of homes sold in the metro take a pretty consistent dive but, surprisingly, home values haven't taken the same dramatic dive. Sure, they've softened in some areas, but overall the median home value has stayed pretty level.
So what's the real key to selling a home in this market? I'll give you a hint. It starts with a P. No, it's not pricing (although always critically important).
It's Patience. Take a look at this: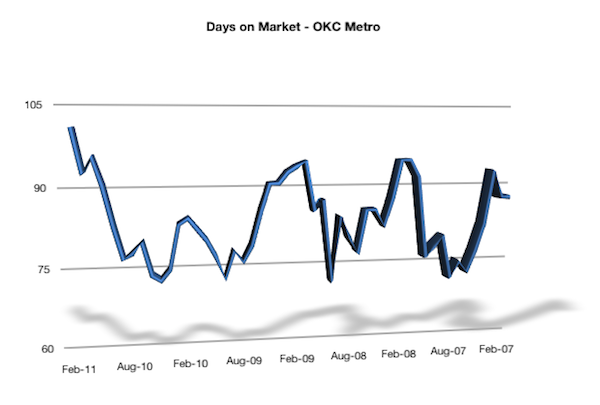 The chart you just saw is your visual wake-up call. It's the fact that none of us want to face, but fact nonetheless. Homes are taking longer to sell than they were this time last year, and not just a little bit longer; almost a whopping 19% longer. Instead of 85 days on the market last February, this February's average was 101 days on the market.
The real eye-opener is that this is the highest DOM average on this chart, dating back to January 2007, when I started tracking statistics on this site. Not only is this the highest number in the past 5 years, I even looked back to 2004 and never found another time when we were in the triple digits for days on the market.
So, the 3 staples I've preached for years are still there. Price, Condition and Marketing still rule the world of selling homes, but Patience is quickly creating a 4th vital category.
**Originally posted on the ShowMeOKC Real Estate Blog, where you'll find out more about Oklahoma City, Edmond, Moore, and beyond.