September has historically been the slowest month in Miami Beach rentals and Flamingo South Beach is certainly not an exemption. The last half of September has been incredibly slow with some top realtors reporting little to no leases closed and the Leasing office Relocation agents indicating a 50% drop in business. We have seen inventory almost double since its peak in early August. For example just looking at available listed 1 bedrooms in August there were 10 units then and now we have 19, but this is soon to change. High Season is very fast approaching and along with the sexy super models (and end of the wet season....finally please) come higher prices and less inventory. Tenants now is the time to get a deal, landlords get ready to kick it in high gear.
Deals
The best deal on the market is unit 1242, a one bedroom with a balcony that faces the bay & courtyard, It just got listed today for $2,000 however the owner will consider providing parking for free (a $150 value) if we find a quick 1 year lease to turn it over. This is by far the lowest priced 1 bedroom with both balcony and bay view. The closest one is the over priced unit 1018 that has been sitting on the market for weeks. While 1018 is the best direct bay line and it even includes wood floors I predict it will lease for $2,000-2,100.
The next lower priced one unit 858 is listed at $1,750. This 1-bedroom is now back on the market and it faces the courtyard and bay however it has no balcony which has proven difficult to rent and a very firm owner who refuses to lower her price. It has been on the market since early August, I believe a price of $1,600-1,650 will get this leased right away.
And now my top pick of month a high floor super large "fully furnished" 1 bedroom corner unit, this exquisite residence faces directly on the bay with balcony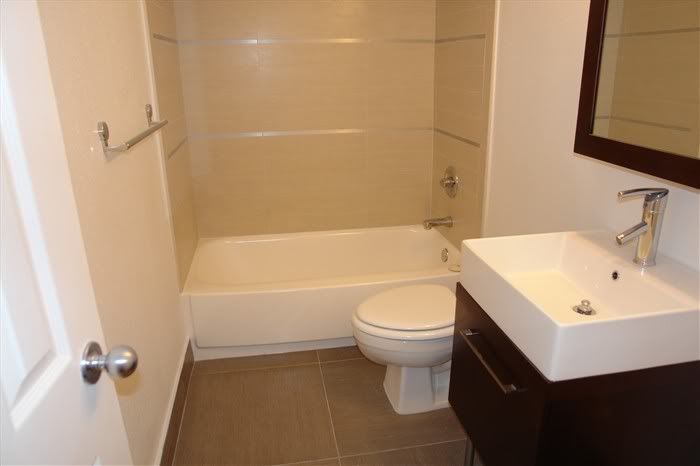 towards bay / garden side. It is a fully upgraded unit by the developer and the finishes are very modern and trendy but still just little basic cookie cutter. It includes all the expected refinements, stainless steel appliances, title, and upgraded cabinets and sinks in the bathroom. However the owner has done an impeccable job furnishing the apartment with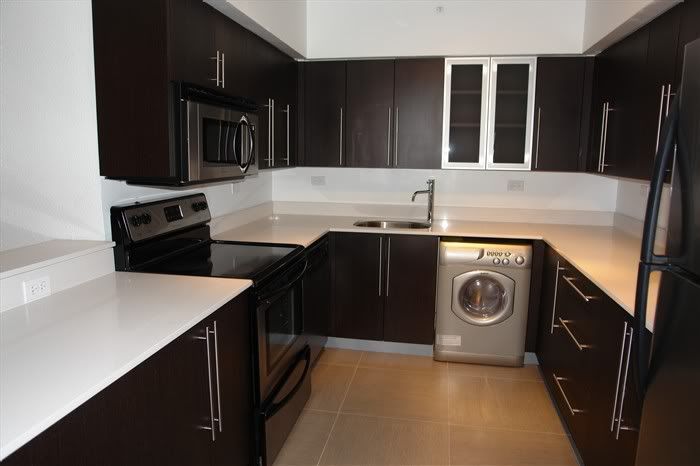 a professional interior decorator and over $40,000 in high end designer furnishings and immaculate accent colors. This short-term rental priced at just under $3,000 per month while not a steal is definitely worth another look considering its sizable 1,100 square feet of living area.
And not far behind is unit 1246 a stunningly 2 bedroom with courtyard and bay views. This is the only available fully upgraded 2 bedroom which includes the standard developer package. It has stainless steel appliances, title, upgraded cabinets and sinks in the bathroom. It's listed at $2,800 and the owner will let it go for $2,500-2,600 this is very close the price of a similar unit I leased some weeks ago on the same floor.
Save Money, Live the lifestyle.
Luxury is not cheap but when you need an in...Consider the value a 2 bedroom brings at just $300- 500 more then a similar 1-bedroom it doesn't take a genius to figure out the best value per square foot. So for families or roommates go to unit 1060 listed at just $2,350. This is by far the lowest priced 2 bedroom on the market and it still has a lovely garden and bay view. And for You...Yes you... the discriminating and demanding client...Put an offer now on unit 826 listed at $2,500 with a direct bay view / pool party view and watch the cruise ships sail by in your wonderful new apartment home. Direct bay means a view right from your apartment foyer. Wow how amazing is that? Based on past experience and dealings with these agents we should be able to negotiate at least $150 of the list price on a long term contract.
Rented
While only a few apartments leased this period the top deal to beat is the recent contract put on the lower penthouse corner apartment. This updated high floor direct bay view unit is the only corner unit with direct bay and a private balcony which faces directly towards the water. This enormous apartment home has a huge living area and provides almost 400 more square feet than any other 2-bedroom floor plan in the complex and with recently installed hard woods floors. For $2,750 this lucky client gets to enjoy the gorgeous glowing sunset views from balcony while hearing the crashing and smoothing waves hitting the seawall.
For more information to lease, sell or buy please contact MrFlamingoSobe. Expiernced, Trained and dedicated to the Flamingo South Beach community I will make sure you the most out of you money. Contact me today +1 305-9757472