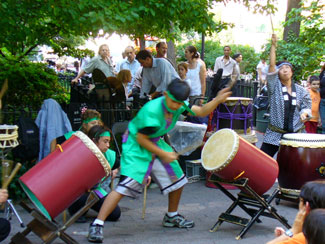 Make Music New York, a free music celebration, takes place on June 21.
Photo courtesy of Make Music New York.
This June, waves of sound and light – emanating from outdoor music festivals, public movies and 88 brightly painted pianos – will wash over the streets, parks and plazas of New York City. Events are free and family-friendly, so venture out this June, play a piano, hear a band, watch a movie and come back for more all summer long.

River To River
June 19 – July 16
The River To River Festival is Lower Manhattan's largest free summer arts festival featuring music, film, dance, theatre, art and play elements in a variety of public venues in Lower Manhattan. The celebration stretches from Chambers Street down to Battery Park and across the island from the Hudson River to the East River. In celebration of its 10th anniversary, the River To River Festival presents a four-week season that is dedicated to artists and art groups who are native New Yorkers or whose work have been inspired by the Big Apple. For more information, visit rivertorivernyc.com.

City Parks Foundation presents SummerStage
June 7 – September 2
SummerStage is an annual, free performing arts summer festival which takes place at Rumsey Playfield in New York City's Central Park and in parks throughout the five boroughs of New York. The festival draws artists from around the globe in a multitude of genres and cultures, performing in an outdoor setting that is accessible to people of all ages and backgrounds. To learn more, visit summerstage.org.

Sing for Hope's Pop Up Pianos
June 19 – July 4
Last summer, Sing for Hope took music to the streets with "Play Me, I'm Yours," a public art project by British artist Luke Jerram that brought 60 pianos to New York City's parks and public spaces. This year, Sing for Hope's Pop Up Pianos will return to the streets with 88 pianos placed in public spaces throughout the City's five boroughs to be played by all who pass by. For additional details, visit pianos.singforhope.org.

5th Annual Make Music New York
June 21
Make Music New York is a free, live music celebration that takes place each June 21 — the longest day of the year and the official start of summer. On MMNY day, hundreds of public spaces throughout the five boroughs — sidewalks, parks, community gardens and more — become impromptu stages for over 1,000 free concerts. For a complete schedule, visit makemusicny.org

Intrepid Museum: Free Summer Movie Series
June 24-August 19
Blockbuster films are screened in a blockbuster location – the deck of the Intrepid Sea, Air and Space Museum, a decommissioned aircraft carrier located in the Hudson River off of Manhattan's West Side. To learn more, visit intrepidmuseum.org.

Lumen
June 25
Lumen is a cutting-edge video and performance art festival on Staten Island's waterfront. It will take place on June 25 on the site of the Lighthouse Museum. For additional information, visit statenislandarts.org.

For a listing of free public art events taking place this summer, click here. Visit the NYCulture Calendar at NYC.gov/NYCulture for a complete list of free and family-friendly cultural activities taking place across the five boroughs all-year round.
courtesy of:
Mitchell Hall, Associate Broker, The Corcoran Group