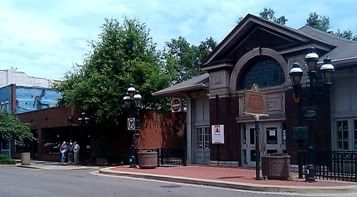 Doe's Eat Place, 136 Broadway, Paducah KY, is located in an ordinary old building across 2nd Street from the historic Market House Museum, Market House Theater and Yeiser Art Center.
The food is anything but ordinary, however.
This location is one of fourteen Doe's, but Paducah has the only family-owned restaurant other than the original Doe's Eat Place in Greenville MS. Big Doe Signa's grandson, Paul, is the manager.
I love Doe's hot tamales and chili so much I even eat them on hot summer days. The tamales are homemade from the recipe grandmother Maime originated in 1941. Until I started eating lunch at Doe's, I had never experienced a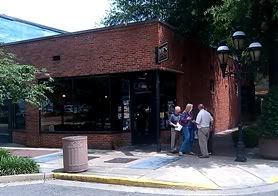 steak sandwich made with pieces of fillet and porterhouse steaks. Yummy! The black & bleu salad has the same chunks of steak, and it's worth a trip to town just to try it.
Their specialty, though, is steak. They cut them right in the kitchen, and they cut 'em thick. Don't tackle one by yourself. A whole family can eat on some of them. And, they cook them the Doe's way. You won't find that kind of flavor many places in America.
The folks to the right are my lunch friends scrambling to get out of the way before I took this picture.
They didn't make it ;)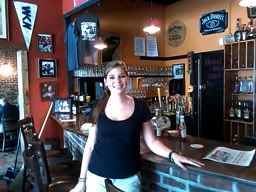 My lunch today was the catfish plate, and I have to say the catfish at Doe's is better than I've had in most catfish restaurants. They know how to roll the catfish fillets in corn meal and cook it just right.
To the left is our waitress, Sarah. When she asked me if I needed change, and I replied, "A little. I don't want to be accused of over-tipping." Turned out she had no problem with over-tipping ;)
Those are just some of the reasons Doe's Eat Place is on the list of my favorite Paducah Ky restaurants.
I'm an avid eater. If you are, too, then you know how hard it is to find a good place to eat when you're visiting another city. That's why I'm highlighting some of them for you in these blogs.
If I don't get all of my favorite local "eat places" online before you make your trip, feel free to email me or give me a call while you're in town. I'll give you some personal tips to make your taste buds tingle when you visit our fine city of Paducah KY.
Doe's Eat Place
136 Broadway
Paducah KY 42001
270-443-9006
Tip: They're closed 2-5 PM Weekdays, so don't go, then.