BBQ On The River, Paducah KY, is when my favorite eating places moves outside. Every September, you'll find me wandering the streets in the midst of sixty (60) TONS of BBQ pork & chicken prepared by about fifty different pros. What more could a serious BBQ Ribs connoisseur ask?
 BBQ On The River is September 24th - 26th for 2015. Drop in and experience a bit of Hoag Heav'n!
My trek down BBQ lane begins a week before the start of BBQ On The River when the local paper publishes the map of booths.
Don't try to break my concentration while I'm busy circling last year's winners' locations for this festival. That's when I finalize my plan of action.
I'm a BBQ ribs guy, and nobody makes BBQ ribs like western Kentucky BBQ pits. The secret is hickory wood. No other wood creates the smoked flavor that hickory does.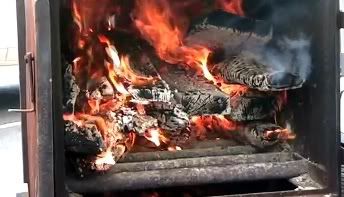 You have to have a separate fire pit to burn the wood down to smoldering coals, and then smoke the meat at a pretty low temperature for a LONG time. That's the REAL THING.
I grew up on Leigh's BBQ. Leigh's has been in business since about the time I was born, and I always compare any BBQ I eat with Leigh's, but once a year it's my duty to sample all the ribs I can eat in three days.
And, I have to tell you, I can eat a LOT of ribs in three days if I work really hard at it!
I usually eat several meals right at the booths. Then, I buy a slab of ribs from one of the other prize winners on my list to take home for my next meal.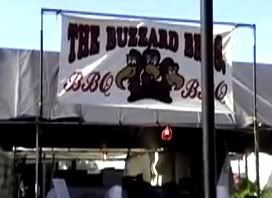 Buzzard Brothers is one booth you don't want to miss.
Ed White always comes away with an award, too, and you can find his ribs any Thursday night a Whaler's Catch, 2nd & Jefferson Streets in Paducah.
There are a lot of great ribs at BBQ On The River, but you'll just have to find out for yourself. I'm not going to give you ALL my secrets ;)
There are lots of other good things to eat besides ribs, but I just can't pass up ribs when they're around.
I did try a deep-fried Oreo last year. They're not bad, actually. Who'd a thunk it!  My favorite non-rib food at BBQ On The River is Grandma's Fried Pies - I never leave without a sackful.
And, besides great eating opportunities, there are lots of activites and all the profits go to charity.
Plan your fall trip through Paducah around BBQ On The River this September. You'll be glad you did!
Current info:  www.bbqontheriver.org
Donnie McKinney CCIM
Coldwell Banker Commercial Purchase Realty Group
3906 Hinkleville Road Paducah KY 42001
270-450-2222