This year I have been completing numerous BPO's for homes in my area. BPO is an acronym for Broker Price Opinion. Broker price opinions are a valuation service that real estate brokers can offer to banks. Performing these BPO's has only strengthened my ability to properly assess how much a property/home is worth in today's market conditions. Completing BPO's in local cities like Janesville, Milton, Beloit, Evansville, Elkorn and Madison has given me a unique view into the intricacies related to each market. I also have a better understanding of how the banks determine their home values when it comes to short sales, pre-foreclosure decisions and REO properties. The article below explains in greater detail what a broker price opinion is.

Regards,
Michael Collins - Broker
Short Sale & Foreclosure Resource

What is a Broker Price Opinion?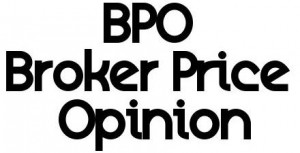 When a bank or asset manager obtains a new foreclosed listing to sell, they immediately need to know the home's value. Typically a bank will assign one to three agents to evaluate the approximate selling value of a home. These banks expect each agent to submit three comparable sold listings and three comparable active listings as well as an estimate of what the agent thinks the home will sell for.
A Broker Price Opinion is not as detailed as an appraisal and does not entail as much work. BPOs differ from Appraisals in a number of ways:
Appraisals typically cost over $300. Most BPOs pay brokers between $50 and $100.
Appraisals require detailed square footage measurements. BPOs rely on county assessors' recorded measurements.
Appraisals use a standard format recognized and used by lenders and mortgage professionals for precise property valuations. BPO's are prepared in different formats and are used simply as decision making tools for asset managers of each bank.
Appraisals are typically 15-20 pages long with detailed information on each aspect of a property. BPO's are usually 2 pages long with information pertaining only to a final selling price.
Why Do Banks need Broker Price Opinions?
Asset managers and bank personnel make decisions on several properties every day. Reading through a lengthy 20 page appraisal and filtering out the critical information is a waste of their time. These asset managers need concise, financial documents that make their choices easier. That's why BPOs are so critical to their job. In addition, a BPO saves the bank over $200 per property compared with a standard appraisal. That money adds up quickly and saves the bank thousands and thousands of dollars a year.
Another reason BPOs are preferred by banks is that the turnaround time is much quicker than appraisals. BPOs can usually be performed by agents in under 48 hours. Many appraisers visit the property within 48 hours, but then require another day or two to process the information and create the full report.
Article Source: http://EzineArticles.com/1844386
Author: Brian Anthony