Huntin' On Empty. My daughter wandering across the country shooting stuff in a TV series. Who'd a thunk it.
Several years ago, the boys from our church youth group had come to our house one Saturday morning to play paintball in the woods. It was raining. They played in the rain. None of the boys cared much if it rained, just as long as it didn't pour down all the time. Meanwhile, my daughter, Traci, called her mom to say, "I'm going to cancel my trip to the mall because it's raining."
Pretty decent illustration of the difference between boys and girls. Pretty decent picture of Traci before she morphed into the big game hunter.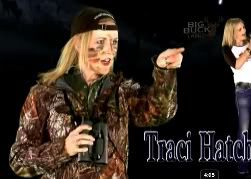 Traci's husband, Mark Hatcher, grew up hunting, being a guide and about everything else related to hunting. His business, Big Buck Properties, sells hunting land. Traci, on the other hand, was a school teacher and a Realtor in my office, well, until she heard the word "camera." The rest is history. Now, she's an acomplished bow hunter with numerous trophies, and an excellent marksman.
Traci & I recently took training together to get our concealed deadly weapon carry permits. If that's not redneck, I don't know what is. Some guys would probably be embarrassed having a daughter who shoots a gun better than they can, but I was just proud to know her.
Last fall, Traci & Mark took off in an RV and spent four months driving across America with two camera crews filming a reality TV series called Huntin' On Empty. The premier was this past week.
The series is real-life husband & wife team traveling and shooting stuff, with the good and the bad all out there in front of God and everybody. Traci said the first episode is when they still liked each other ;)
The picture on the right is from the first day of moose hunting, when Traci shot a huge moose, and is probably in "the good" category.
The reviews have been great, and people who commented on Huntin' On Empty's Facebook Fan Page said it is a different kind of hunting show. They all liked it.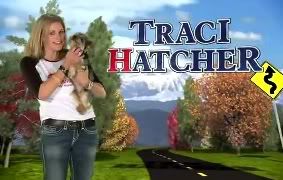 I missed the first episode, because I was on my way home from high school church camp on a bus with 43 teenagers. The bus even had Direct TV, but the driver couldn't get it to work.
It was fun, though, just being able to tell everybody on the bus that we were missing my daughter's TV show.
It seems like only yesterday when she was having tea parties with Barbi.
Huntin' On Empty is on the Pursuit channel, Direct TV 608, Dish 240, if you're a hunting enthusiast and want to watch the rest of the series. I'm going to have to catch up on Tivo.
UPDATE - Here's a link to Episode 6 online for those who want to watch Traci shoot that huge moose, but don't have Direct TV or Dish ;)