There's a new Sequim Real Estate eBook out and available as a download, Buying and Selling Real Estate in the Rain Shadow of Sequim, in an eBook format for the iPad and other eBook readers using the ePub format. The book looks beautiful on an iPad. The fonts are easily changed on an iPad, and the size of the fonts can be increased or decreased. This technology is great, and the eBook includes color photos.
Sequim Real Estate eBook for iPad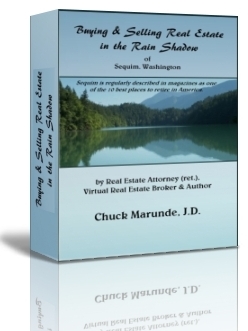 This eBook is not quite 300 pages (depending on the size of the font you use), but it does includes relevant links to hundreds of articles, videos, and audios, as well as tools to learn all about Sequim real estate. This is a great tool for buyers who want to avoid traps for the unwary and who want to find the perfect home and negotiate the best possible price. While this eBook is written with Sequim, Washington in mind, buyers all over the U.S. will find the practical tips and insider secrets that 30 year veteran real estate attorney and real estate broker Chuck Marunde shares.
Sequim Real Estate eBook for eBook Readers
The purpose of this Sequim real estate eBook is to give buyers the knowledge they need to make the best buying decisions for their Sequim home.
I openly share what you might think of as "insider secrets," because I want my buyers to have the advantage. You can download this Sequim real estate eBook right now.