Pay it forward - Let the guys have some fun!
Got a text from one of the guys in our youth group Tuesday night. They had some fireworks from the 4th & had no place to shoot them off. "Come on over," I told them. Of course, I had to call one of the parents to make sure there wasn't a hidden agenda. Mom said she had been informed and it was fine.
So, we shared some dinner with a couple who hadn't eaten. Played some cowboy golf. Shot off some fireworks.
Of course, the main activity was the one we feared the most - bottle rocket war. We had a lot of those when our son and his friends chose up sides on either side of the pond and tried to assinate each other.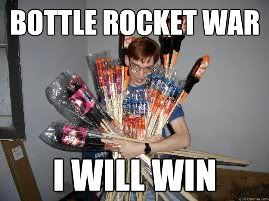 I'm always afraid someone will get an eye put out, but all went well and no one lost an eye.
Marsh made some of her famous brownies, which were gobbled up by all. I figured the sticks lying all over the yard would eventually rot away, so all is well.
At least there wasn't much chance of anyone getting their tongue stuck to a pole in July.
Maybe we'll do it again.