Kirchoff's Bakery & Deli, Paducah KY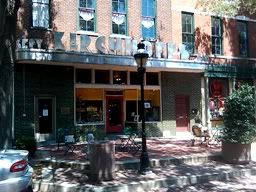 I have a reminder set in my phone calendar for Saturday, March 17, 2012. What's the occasion? Corned beef & cabbage with boiled red potatoes at Kirchoff's!
I happened to eat lunch at Kirchoff's on St. Patrick's Day this year, and the corned beef was about the best thing I have ever eaten in a restaurant.
I asked a few weeks later, "When are you going to cook up some more of that corned beef & cabbage? That was great!" "Oh, we only have that once a year - on St. Patrick's day." March 17, 2012 will be the first time I have ever driven downtown to eat lunch on Saturday.
Set your calendars, folks, but plan to get there early. The word is out!
Kirchoff's Bakery & Deli is one of my favorite eating places in Paducah KY. Louie Kirchoff has taken an old family business, that was first established in 1873, and turned it into one of the most unique & tasty restaurants I've ever experienced, and I've eaten in a lot of great restaurants.
Kirchoff's has so many great things to eat that I'm going to have to leave most of them out, but I have to mention a few of my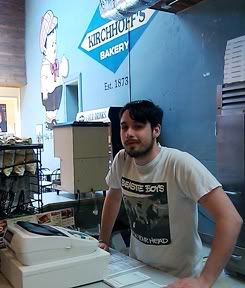 favorites. John has taken my order every time I've ever eaten at Kirchoff's. Sometimes I wonder if Louie ever lets him have a day off. He asked me not to put his phone number on the internet, because he would have to go into hiding with all the girls chasing him down.
The first time I ate the "1/4 of a Muffuletta" I was hooked. But, as I was leaving I said to John, "Um, as I remember from high school geometry, one fourth of a circle is ninety degrees but this seems a bit narrower." John didn't hesitate, but replied,"It's really a sixth. We just call it a fourth."
Now, when I drop by for lunch, someone always asks, "How about a sixth of a Muffuletta, today?"
Many days I'll have the soup of the day, it's not "soup de jour" at Kirchoff's, and one of their specialty pizzas. The soup might be Essence of Portabello or a great red beans & rice combo. Sometimes, it has andouille sausage & pasta. They're all homeade and tasty.
Try to imagine a pizza made with homemade cracker crust, thinly-sliced new potatoes, andouille sausage, a little spinach and some good cheese & spices. Yummy!
One of my favorites is the Cajun Fried Shrimp Salad with romoulade dressing. All of the sandwiches are great. Lots of meat and no bad "healthy" influences ;) Whether you prefer the Classic Greek Gyro, or just a simple Reuben, they're all tasty. And, . . . I finally experienced Falafel, after wondering what Jerry, Elaine & George were talking about during an entire episode of Seinfeld.
The decor is as unique as the menu at Kirchoff's. The building was built about 50 years after George Rogers Clark's brother,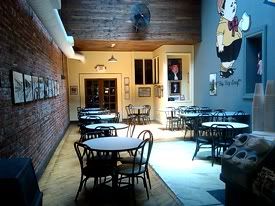 William, surveyed the town that became Paducah KY, and much of the original structure is still there.
Skylights bring the sunshine right to your table inside, if you don't want to eat at a table on the sidewalk.
On pretty days, you can also pick up a sandwich from the Big Lou cart out front.
Once each week, I pick up a sack of homemade crackers to take home. They are so much better than store bought.
Most of the better restaurants in town serve breads baked by Kirchoff's Bakery. You can't buy better bread. I especially love the Cranberry Walnut loaf. Drop a couple of pieces in the toaster, and it's a whole meal.
I can't leave without visiting the cookie counter on the way out. My favorite is the Cranoatie, with dried cranberries & white chocolate chips. The Honey Walnut cookie is also special. No matter what your taste buds crave, Kirchoff's has a cookie for you.
The other day, I looked on top of the counter and found individual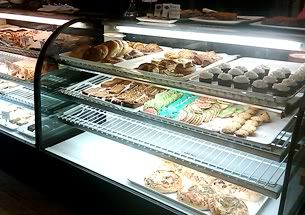 homemade fresh blackberry pies. Hmmm, couldn't turn those down.
Another reason I can't go home without stopping at the cookie display is because my grandson's first words when I drive in are, "Did you bring me a cookie?"
If you're visiting Paducah KY, don't even think about leaving town without visiting Kirchoff's Bakery & Deli.
You'll be glad you did ;)
Kirchoff's Bakery & Deli
114-118 S. Second Street
Paducah KY 42001